Daytime group skates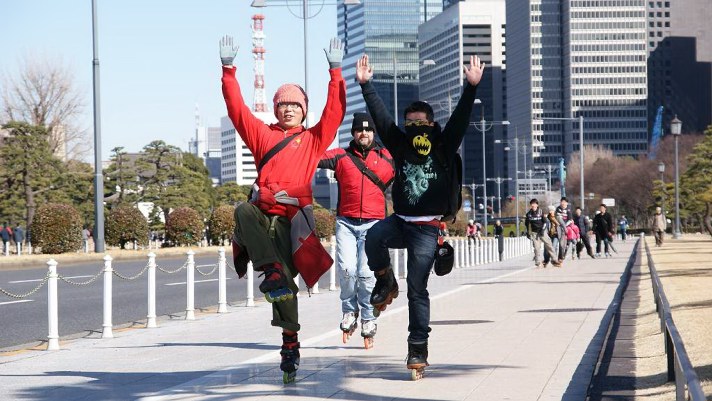 Tokyo City Run on February 07, 2010. Photo by @iwa.
City Run
City Run (CR) was organized in the summer of 1999 for the purpose of skating within Tokyo (read article below). Before that, most of the skaters were only skating along riverside bike paths or in parks. The Tokyo CR meet every Sunday morning at 9 AM near Ueno Station (see below). Ueno Station is on the Yamanote Line which circles central Tokyo.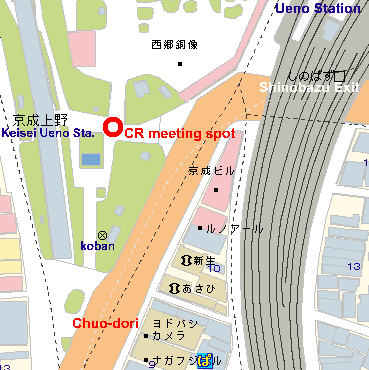 TOKYO City Run
Every Sunday
Time: Meet at 9:00 AM, leave at 9:30 AM
Place: Near JR Ueno Station (see map above)
Route: To Jingu Gaien, Aoyama via Tokyo Station and Tameike Sanno
For more information, contact
@iwa
.
TOKYO Xmas Run 2007 on December 24, 2007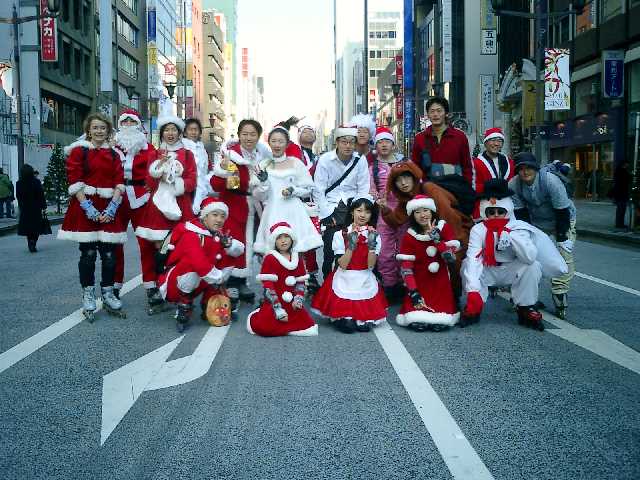 Time: Meet at 11:00 AM, leave at 11:30 AM
Place: 1st floor terrace at the Tokyo Kaijo Bldg., near the north exit of Tokyo Station (Marunouchi side)
Route: To Jingu Gaien, Aoyama or Roppongi via Ginza, Shimbashi and Tameike Sanno
SHINJUKU City Run
Next skate: TBA
Time: Meet at 9:00 AM, leave at 9:15 AM
Place: Near JR Shinjuku Station - New South exit at Takashimaya Times Square. (Near the Shinjuku 4-chome minami intersection)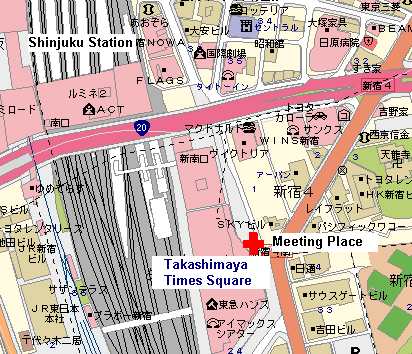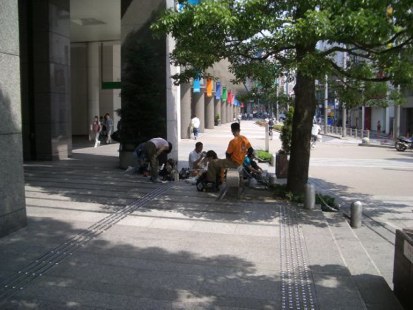 Route: Shinjuku - Yotsuya - Hanzamon - Sakuradamon - Tokyo Station - Triton Square in Tsukijima
Distance: 10 to 20km
WANGAN LCR (LONG CITY RUN) on January 5 , 2010
Starting time: Meeting at 9:15, leaving at 9:30 AM
Place: 1st floor terrace at the Tokyo Kaijo Bldg., near the north exit of Tokyo Station (Marunouchi side)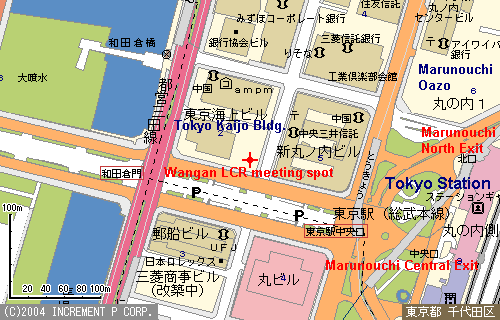 Route: Tokyo - Tatsumi - Tokyo Heliport - Wakasu - Shinonome - Odaiba
Distance: About 35 km
For more info please email
@papa
Below is an article about the City Run in Tokyo. Special thanks to Kazuho Tokito for translasting this article of me.
Get into the City: An article about City Run in Storm Magazine vol. 5 (February 28, 2000) - By Kazu Morita
Let's skate in the city. Recreational skaters are adventurous enough to go beyond the image of in line skating in the park. They are more familiar with the city than any parks. In the fresh morning on Sundays, those skaters who know every nook and cranny about the city will start skating in the street. Those who bought in line skates for the first time usually go skating in the park, which is surrounded by trees and plants, and chirps of various birds. They can get used to turning right and left after several trials, and even get the knack of stopping sooner or later. Once they experience the kick out of moving freely on the skate as if it were part of their body, they may want to be more adventurous. How wonderful it might be if you can handle an in line skate freely in the street that is familiar to you walking back and forth every day between your home and school or work. The City Run is surely able to satisfy such secret desire you may have.
The City Run makes it possible for skaters to move from one section of town to another
The entire city becomes a park for City runners
Let me introduce to you our plan to skate from Ueno to Odaiba and Aoyama by way of Tokyo and Ginza every Sunday morning. Recreational skaters unknown to each other and without regard to age, occupation and sex gather on the stairs next to Ueno Park and on the left side of Keisei line Ueno Station at nine Sunday morning. They came to know City Run (hereinafter CR) through the internet or by word of mouth. They carry only a bag with them that contains their clothes and shoes. A bottle of mineral water is sometimes peeking from a side pocket of the bag
.
Anyone who is able to skate to some degree and stop can take part in CR without regard to the level of skating techniques, and also an opportunity to meet sociably. Participants consist of various types of people including computer programers, insurance agents, designers, and those dealing in finance. During a break they have a chat while drinking something hot. They are good members of society so they may not cause any problems. In fact, no one has been stopped by the police while skating on the public road.
The CR starts by Keisei Ueno Station at nine every Sunday Morning. Anyone who goes there at the right time will be accepted as a friend and can skate together for several hours. Skating routes vary from day to day. Several staff members always make an inspection of the route in advance to see to it that skaters can enjoy the sightseeing of the town. The goal could be Aoyama, Tsukiji, or Odaiba. The possible choices of goals have been increasing in number. The CR has been practiced every week and many people are repeaters. It seems that skating in the city beyond the limits of a park has already become part of their lifestyle.
Now that the number of participants has soared to scores of people within less than one year, it seems to be necessary to improve various ways so that participants can skate more comfortably such as increasing the number of staring points and dividing participants into several groups.
The CR staff has always been looking for new ways to help in line skaters coexist with the city. No matter how big and beautiful a park may be, it is only a segregated area and no match for the city itself where skaters can move freely from one place to another. One of those pioneers for CR is Mr. Saito living in Ageo-shi, Saitama Prefecture.
Mr. Saito has been making alot of effort to help people have a new image of skating through CR. He places news regarding the goal of the week on [skate]City Run, the home page of K2 Japan. Other participants also report about CR on their own home pages. They have been advertising the CR in an effort to increase the number of participants, they know that people must directly participate in it in order to taste the true pleasure of the CR.
I think that in line skating will become more popular in Japan through the increased popularity of the CR. I can come up with several reasons why in line skating has not been as popular as we had expected. Take for example: They are not sure as where to skate, they don't know ant group they can readily join, etc... The CR which makes it possible for individuals to keep a certain distance among themselves while skating together for several hours and taking responsibility for themselves, may be a wonderful opportunity for urban businessmen who are extremely busy with work during the day and therefore hope to enjoy themselves focusing every attention on such a limited period of time.
Voice of a "City Runner" - By Koshi Saito
Profile of Koshi Saito: Saito is from Ageo-shi, Saitama Prefecture. The skates he usually uses is the Salomon FT-8. He is in charge of deciding skate routes and assurance of safety. "I'd like to help expand the areas available for recreational skaters and also start a new type of skating this year," said Saito. "I've started a new insurance especially tailored for in line skaters." He runs an insurance agency business.
Where can I skate?
The "Skate Scene" in 1999 was a big turning point for me for various reasons. Maybe that was because I had always been wondering how I could skate more freely and at more various places. Unlike the aggressive type skaters for whom more and more places have been secured especially for their own use, recreational skaters face two problems at the beginning, that is: Where they can skate and if there are any friends they can skate together with. It would be lucky if they can find through the internet a park they can skate and friends they can chat with.
I was mainly slaloming over the weekend one year ago in a park in Edo-gawa Ward. I may have been looking for some friends at the time on top of gaining as many techniques as possible. I also started wondering if there was any other type of recreational skating besides slaloming. I wanted to start something new, but I didn't know much about skating to begin with at the time, except for slaloming. I was often stopped by people and was told to be more careful when I was skating in the park. Most of the time the superintendent of a park came over to me to tell me that skating was prohibited in the park. I wondered if I could only skate in a limited area, which made me feel dejected.
FNS has changed me
One day a Dutch acquaintance of mine who had nothing to do with skating introduced me to several skating sites in Holland, which had a tremendous impact on me. Take for example a tour, in which a fee was charged, going around various cities for a week, and a tour consisting of several hundred people skating on public roads in Amsterdam. The latter is referred to as the FSN or Friday Night Skate that is popular all over the world, including Paris, numerous cities in the United States and Australia.
I was inspired to do the same in Japan as well, but I had no idea what to do about it in concrete terms. There were many reasons to be negative. "Can we skate in the street? How about at night? It must be very dangerous. I can't be responsible for that, etc...", I thought. On the other hand, I had an optimistic aspect about it at heart. I had a hunch that I would be doing it some day. Some of my friends started initiating a variety of things around the same period last spring through summer. First of all some of them started skating in the city starting in Ueno. That was in the morning. Surely there was no or little traffic.
Because some night skater in NY had proposed to us to skate together in Tokyo, we skated through a certain route in Tokyo in advance. Also, one female skater traveled to Holland to experience FNS there. We did a 20 km night skate in Tokyo with the skater from New York in the middle of the summer. We discussed various safety measures as well. We also investigated the statute books to come to terms with possible legal issues. The we made a breakthrough all at once when we met Tim, the skater from New York. He gave us a lot of confidence. He told us (not in words but in body language) a variety of points, especially regarding safety measures, we should pay close attention to when it would come to skating in the city. We were very much impressed with his skills skating in the street that agreed with his words. Of course we could not accept all of his skills, however. We had to look for unique ways to skate in Japanese cities.
Increasing the number of skating routes and friends
Based on these experiences mentioned above, we felt we had enough foundation for CR sometime around August 1999. At first we skated 4 km from Ueno to Hibiya only with close friends. During the first 2 km we felt so scared that we had no room for enjoying it at all. We somehow felt a strange sense of guilty conscience as well. Technically speaking, there were no problems as far as we put safety stopping into practice and could have a precognitive sense of approaching dangers. We had no problems with the police or pedestrians. Before long many people started joining us including those who had home parks they frequented and those who didn't have any.
It is a wonderful opportunity to be able to share our experiences with these people. During the CR we do not care about where they come from. I think that one of the characteristics of CR is the feeling of "just passing through time and space." We pass through one section of the city to another leaving undesirable past experiences and relationships behind us. The appearance of the city has always been changing and there is no one skating behind us at all.
There are two main routes at present: One is from Ueno to Aoyama by way of Otemachi and then Akasaka. The other is from Ueno to Odaiba by way of Nihombashi and then Tsukishima.. It's about 10 to 13 km. I think the number of skating routes will increase down the road.
Let's skate together and make importance of an opportunity to meet each other
Our ideal is that we can always meet some skaters (whoever they are) without fail if you go to Ueno at nine Sunday mornings and enjoy ourselves skating together with them. Each person is a sponsor of CR on that specific day and must take full responsibility for him or herself. Anyone can join anytime and quit at anytime. If the participants are too large in number, we can make our own smaller groups with those we know well. Because we prefer free participation to being controlled by someone. Nevertheless, we'd like to join the others during recess and at the goal.
The uncharted world has been spread before us. There are quite a few gray areas we cannot tell whether we are allowed to skate or not. We have to do something about it before long. The attitude of the police toward us is not clear to us either. I think we need an opportunity to discuss these points with the police someday. Friday Night Skaters have had some troubles with the police at least once in each country. According to traffic laws in Japan, skating is prohibited in every crowded street. I don't know what the "crowded" means in exact terms. I'd like to find out while practicing CR. The CR is still in its infancy in Japan. I hope that the number of new routes, new starting points and new CR freaks will increase in the year 2000.