Night Skating in Tokyo

SNS - Saturday Night Skate Tokyo
Next skate: June 20, 2010
Starting time: Meeting at 17:30, leaving at 18:00
Meeting Place: 1st floor terrace at the Tokyo Kaijo Bldg., near the central exit of Tokyo Station (Marunouchi side)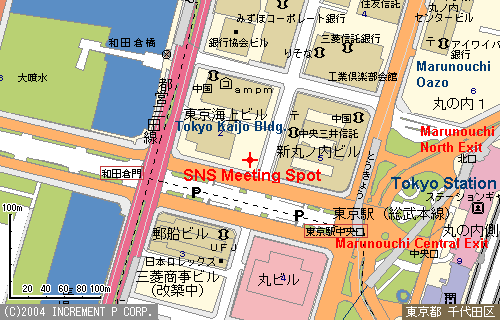 Route: TBA
Distance: about 15 km
Note : Don't forget your flashing light, reflective material, protective gear and your helmet.
For more info please email
@papa
Special Night Skate TBA
Starting Time: Meet at 17:30, Start at 18:00
Meeting Place: Jingubashi, near JR Harajuku Station
Route: Harajuku to Shibuya via Omotesando, Nogizaka, Roppongi, Tokyo Tower, Shiodome, Ginza, Yurakucho, Tokyo Station, Kokyo, Sakuradamon, Kokkaigijido, Tamaike-sanno, Akasaka Sacas, Aoyama 1-chome, Shinanomachi, Keio University Hospital, Yotsuya 4-chome, Studio Alta no mae, Shinjuku-eki nishiguchi, Yoyogi, and Jingumae.
Distance: About 22 km
Note : Don't forget your flashing light, reflective material, protective gear and off course, your helmet.
First Night Skate in Tokyo on August 8,1999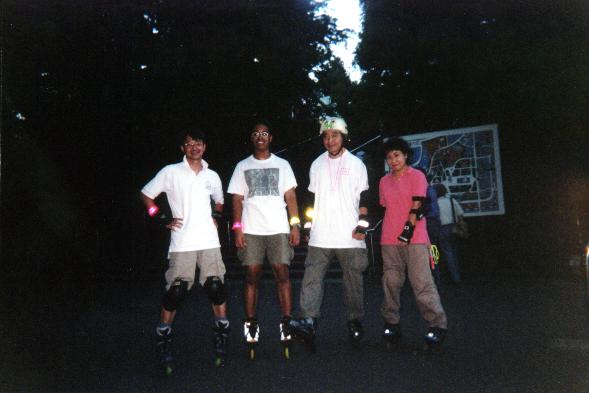 At Ueno before the start of the first night skate in Tokyo (Saito-san, Tim, Maji, and Aki)
The First Night Skate in Tokyo took place on Sunday, August 8, 1999. It was the first time a bunch of people did a night skate in Tokyo. It was just the four of us, but it was more than enough. We skated from Ueno to Shibuya via Akihabara, Nihonbashi, Ginza, Sakuradamon, The Diet, Kojimachi, Yostuya, Shinjuku, Yoyogi, and Harajuku. We started at 18:20 and finished at about 20:00 with a distance of 15 km. For Saito-san, Maji and Aki, skating in traffic and at night was a whole new experience. I told them before hand what to expect skating on the road and we were equipped with flashing lights. I had even given Maji-san my light saber toy from Star Wars!!
If you saw us skating, you would think we were a bunch of nuts to try this in Tokyo!! We got those kind of reactions from some people and many were just surprised to see people skate in traffic, esspecially the drivers. I was skating a lot faster than the others, so I had to pace down and try to skate with them. The one thing I should not have done was to make a right turn at the Ginza 4-chome intersection with traffic!! I tried to get the other to follow, but they refused. They were damn right. Only a New Yorker such as myself would attempt such a crazy move without regard to the other skaters. I finally pulled over to the side and wound up making the turn by way of the crosswalk. Besides that and a similar situation at the Yotsuya 4-chome intersection, the skate was a success. The highlights for me was when we skated in the Ginza area, in Shinjuku (Studio Alta) and finishing in Shibuya (skating into the busy crowd near Hachikomae).
After three years since I first came to Tokyo, I have finally been able to gather my thoughts about my first night skate there. Night skating has finally become something of a monthly event in Tokyo with the creation of SNS (Saturday Night Skate) and the on and off FNS (Friday Night Skate). For a review by Maji-san, go to his
site
.
Millennium Night skate in Tokyo on 12-31-99 to 1-1-00
Thirteen skaters participated in this historic event, including Saito and Maji from City Run. It was more than they expected. They all had a great and exciting time, despite being stopped by the police three times from Ueno to Ginza. I'm sure the reason for stopping them was for safety reasons. From Kojimachi to Shinjuku there were no problems at all. According to Maji and Saito, the traffic was not busy in Tokyo, so it was good to skate in traffic.
People on the street watched in amazement as these brave souls skated into a new year and a new millennium. I hope this event will be a catalyst for making in line skating more popular in Tokyo and Japan in 2000. Thanks to Maji, Saito, Kieron, and the rest for making my dream of a night skate in Tokyo become a reality once again (especially for this millennium).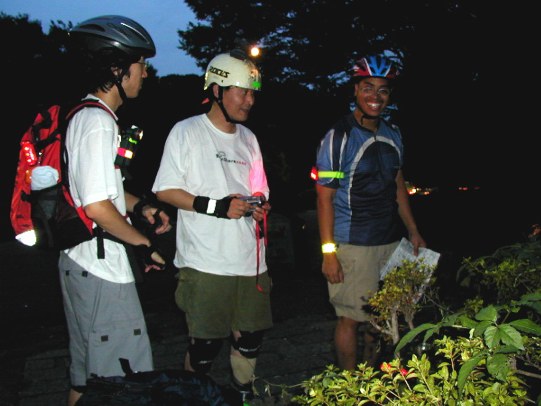 Toyoda, Maji, and I going over last minute details of the route before the night skate on 8/5/00
Tokyo Summer Night Skate 2000# 1 on 8/5/00 (NY style night skating)
In 2000, I planned two night skates in Tokyo. One would be for faster skaters and be mostly on the road and the second one would for everyone with the option of skaters to skate on the road when appropriate (with my guidance). Tokyo Summer NSK8 #1 was held on August 5, 2000. There were a total of 4 skaters for this skate. The skaters were Maji, Masuda, Toyoda, and myself. We met around 6:45 PM at the entrance to Yoyogi Park (near JR Harajuku Station) and started the skate at a little after 7:05 PM. I met Maji last year, who skated with me in the first night skate in Tokyo and the Millennium Night Skate.
I met Toyoda and Masuda for the first time this year. Masuda has his own home page
Tokyo in line skating guide
which he updates with the latest info on the in line skating scene in Tokyo (CR, NR, LR, etc...) and he was the one who took most of the pictures for this night skate.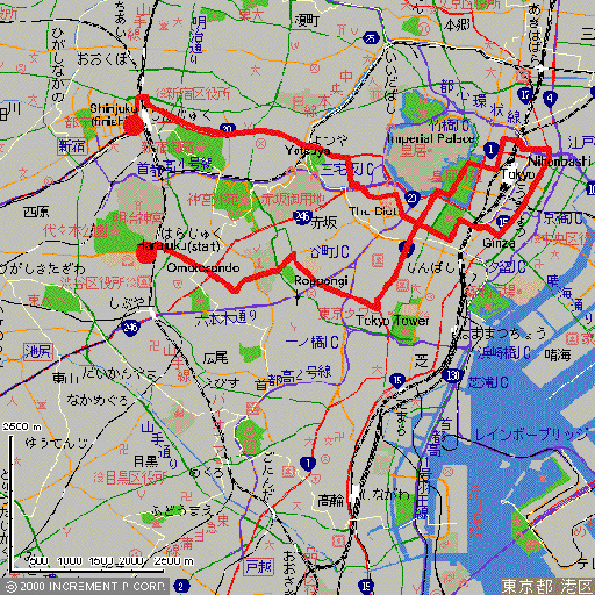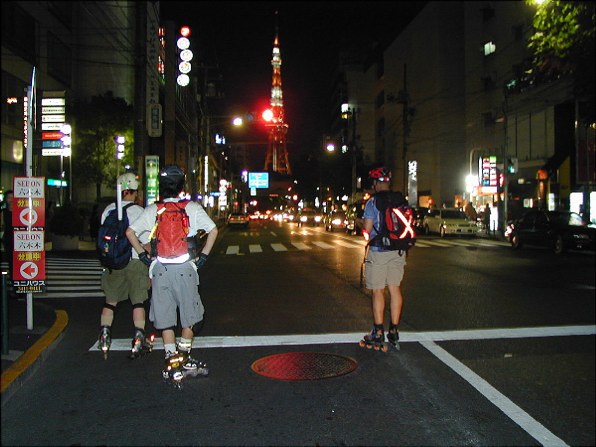 Waiting for the light to change on Gaien Higashi-dori towards Tokyo Tower.
We skated down Omotesando, which is always busy with traffic. Since I am faster than the other guys, I had to skate at their pace. My major concern for this night skate was to skate in the Nogizaka Tunnel, which is a two lane tunnel. I was surprised that we had no problems. I was skating in front and the others were a little behind. But there was a car behind them. I am thankful that the driver was very patient. If this was NY, we would have been honked and yelled at!! Also we had enough flashing lights and reflective material so that drivers could see us at night time. Then we skated on Gaien Higashi-dori towards Tokyo Tower. The traffic was not to bad and we had an easy time getting to Sakurada-dori. Originally, I planned to skate by Tokyo Tower and take a little detour back to Sakurada-dori. But I decided not to skate it on this night skate because there is a nasty downhill course after Tokyo Tower and at the bottom you have to make a sudden 90 degrees turn!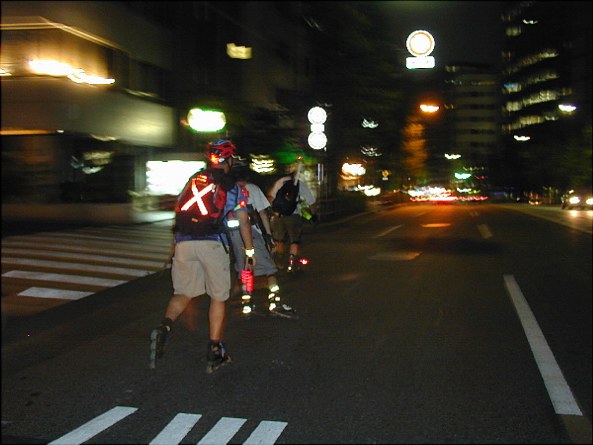 Skating on Sakurada-dori heading towards Toranomon.
Sakurada-dori in the daytime is a very busy street. But on a Saturday night you don't see too many cars, which was good for us. We made a brief stop at a convenience store before Toranomon. Then we headed towards Sakuradamon and skated a little on the grounds of the Imperial Palace Outer Garden before skating along Uchibori-dori. Next we headed for Marunouchi side of Tokyo, passing through Otemachi and then heading for Nihombashi.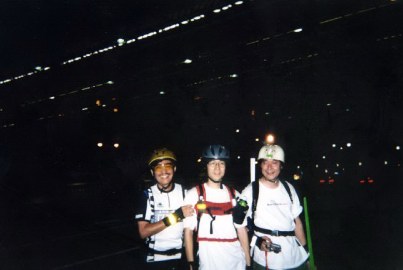 Masuda, Toyoda, and Maji at Nihonbashi.
Crossing Harumi-dori at Ginza 4 chome so that we can make a right the proper way!!
After Nihombashi, we skated down Chuo-dori. We had a cyclist along us for a while until Ginza 4 chome. At Ginza 4 chome we made a right onto Harumi-dori. I remembered last year when I made the right turn Tim-style. Saito, Maji and Aki were shocked at me for doing that!!! So this time we crossed Harumi-dori at Ginza 4 chome and then waited for the lights to change so we could skate on Harumi-dori. Then we took our break at a Lawson conbeni store near Harumi-dori.
Heading for The Diet!!!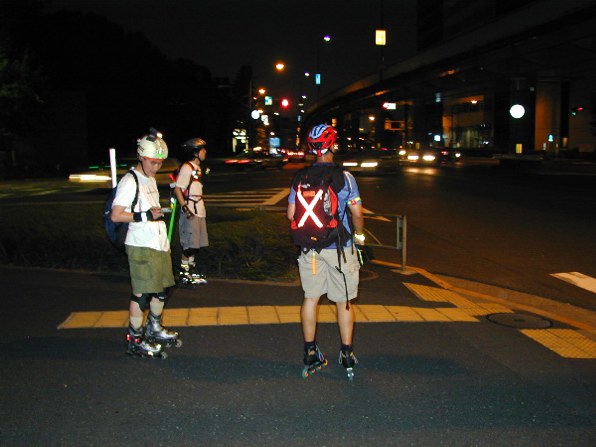 Waiting to cross Aoyama-dori in Nagatacho.
After the break, we headed towards Hibiya-dori and then Uchisaiwaicho towards The Diet. Right before The Diet, a car passed us and the driver cheered us on. I felt good that someone was cheering us on. After passing The Diet, we made our way to Kojimachi and then Shinjuku-dori. Shinjuku-dori is probably one of the best roads to skate on in Tokyo. Even though it is always busy, you can manage to skate without any problems. At Yotsuya 4 chome we had use the pedestrian crosswalks a few times to continue onto Shinjuku-dori because the road splits in two. On last years night skate, I did the same thing I did at Ginza 4-chome (crossing NY style, well I should say Tim-stlye).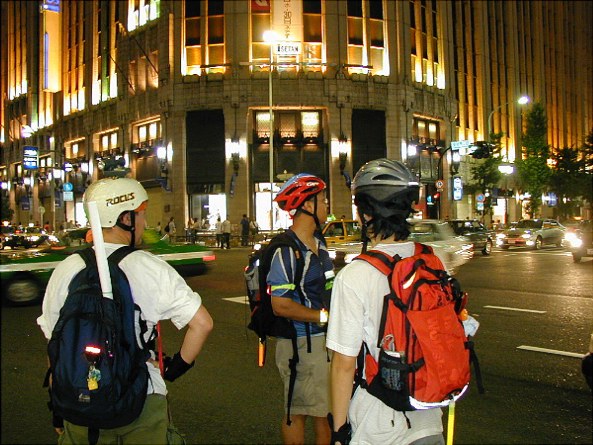 At Shinjuku 3 chome in front of Isetan Dept. Store.
Starting my dash near Studio Alta.
We reached the west side of JR Shinjuku Station at around 9:40 PM. Then it started to rain. My objective was to reach Hachikomae in Shibuya. The night skate ended in front of Keiyo Dept. Store on the west side of JR Shinjuku Station. We skated a total of about 20 km. It rained really hard and there was even lightning and thunder. I was so hot that I took of my socks and just stood in the rain.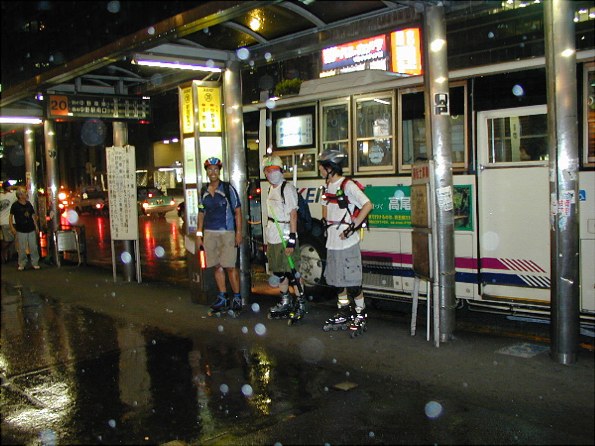 A rainy end to a beautiful night of skating in Tokyo.
This night skate went better than when I did it in 1999. I was a little more organized and I paid closer attention to the needs of the other skaters. We did not run into any problems (except when it rained when we got to Shinjuku). If I was living in Tokyo, we could probably do this type of night skate once a month. But for now the only time this happens is when I come to visit Tokyo. Thanks to Maji, Masuda, and Toyoda for participating in this night skate.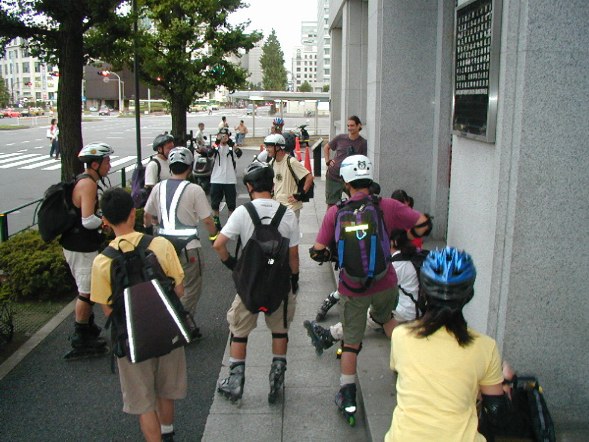 Getting ready for the night skate at the Marunouchi side of Tokyo Station.
Tokyo Summer Night Skate 2000# 2 on 8/12/00 (Hanabi Night Skate)
This was the main night skating event for Tokyo this summer. This night skate was planned by Saito from CR and I. Saito wanted to make this a special night skate for skaters in the Tokyo area. He also wanted to make it possible for this night skate to coincide with a hanabi. First he thought of the hanabi at Jingu Gaien, but that was during a weekday. He wound up picking the night of the Tokyo wan dai hanabi taikai for doing the night skate. The forecast for August 12 was partially cloudy with a chance of rain. I hoped that it did not rain on that day. I started out by myself at Ueno at 6:10 PM and met up with the rest of the skaters of at 6:25 PM. It had rained a little around Tokyo Station. I was really happy to see everyone from CR. Almost everyone had their protective gear, helmet, and lights on. All together 19 skaters left the Marunouchi side of Tokyo Station at 6:35 PM.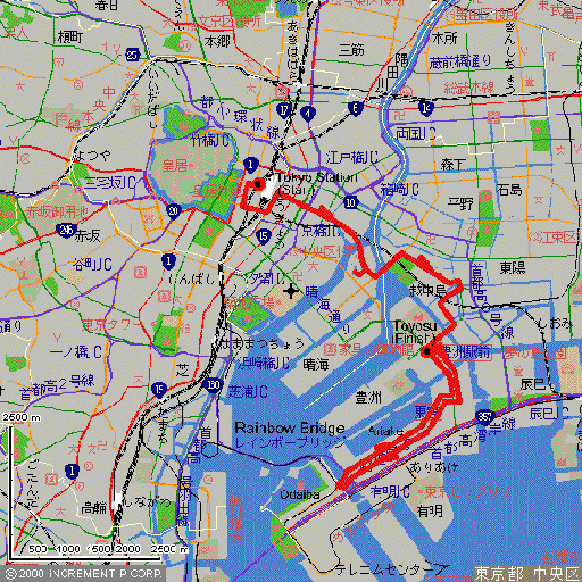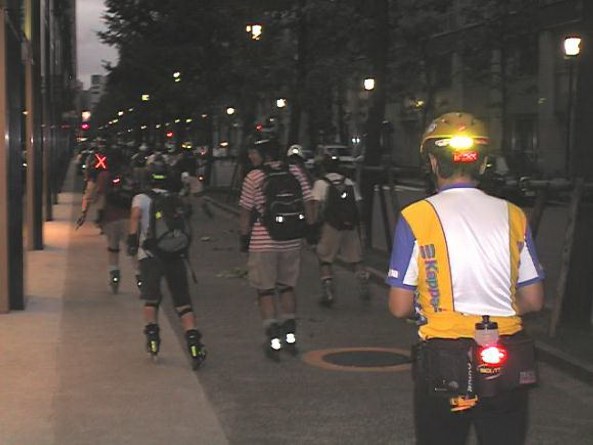 Skating in Marunouchi 2-chome.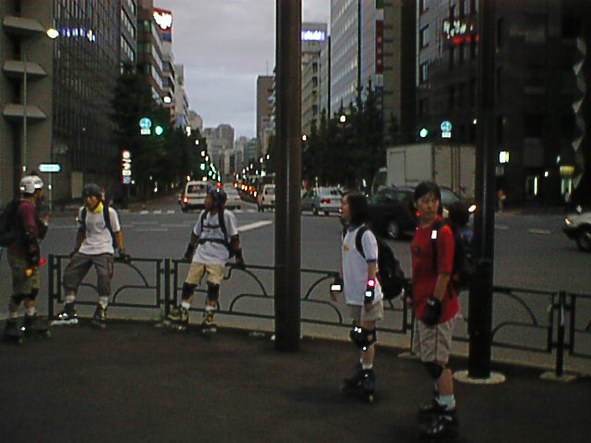 Skaters waiting for the rest of the group at Sotobori-dori.
We proceeded around Tokyo Station and made our way onto southern sidewalk along Yaesu-dori. I was not the only foreigner skating with the locals. There was a guy from San Francisco who is in Japan on an internship. I believe his name was Mark. I had met him the week before at Yoyogi Park. I was getting ready for the Night Skate and he asked me about night skating in Tokyo. I told him that there would be one on the 12th. Maji gave him his home page address so he could get the info. I was glad that another foreigner could also skate along with the rest of the local skaters.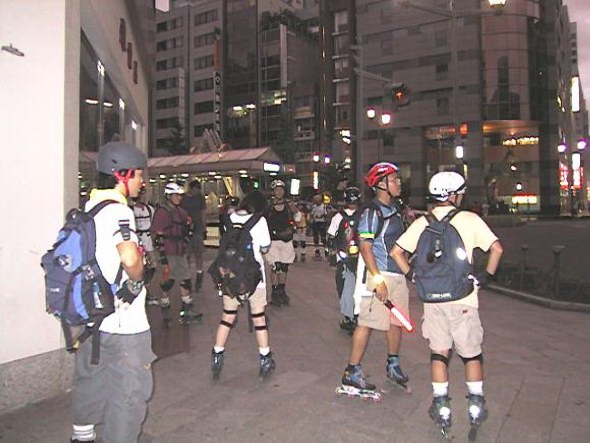 Saito (first from the right) and I waiting for the rest of the skaters at Yaesu-dori and Chuo-dori.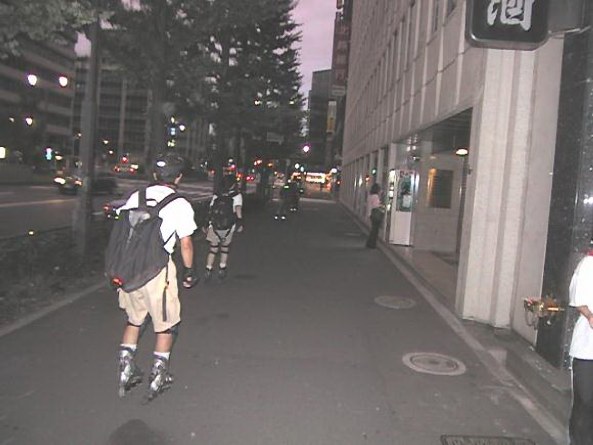 Skating along Yaesu-dori
By the time we got to the Chuo bridge, it was already 7 PM and we could see some of the fireworks. There were many people outside enjoying the fireworks display. Since we skated most of the time on the sidewalk, the bridges we skated on were packed with people watching the fireworks. We all skated with precaution and we had no problems. At Tsukuda we took a little break before heading towards Kiyosumi-dori.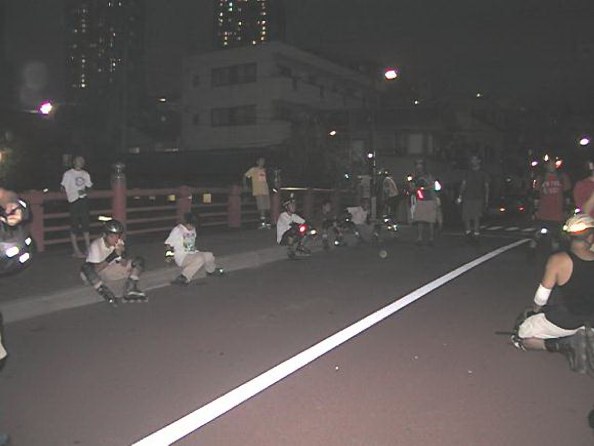 Everyone taking a five at Tsukuda.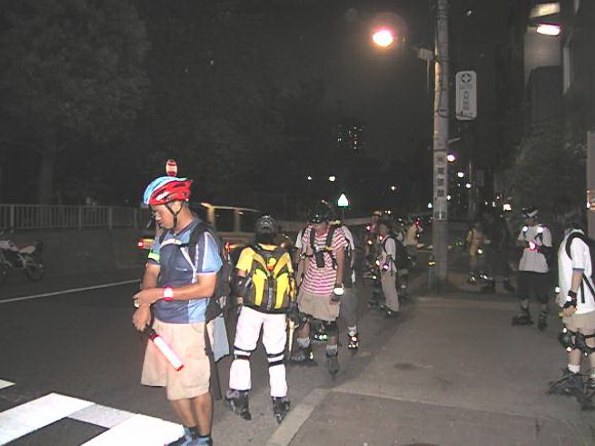 Fixing my flashing wrist band in Etchujima
I was eager to skate on the street. But that would not happen until we got to Etchujima, where we wound up skating against a one-way street. We made sure that when a car came, we all moved to the left. I also used my flashing baton to waive oncoming traffic to show our presence and when we were crossing the street. Once in Toyosu, I made my break from the group and started skating on the street. Saito, Nobu, and a few other skaters followed me too. It was exciting for them to skate in Tokyo at night time on the road. The road leading to Odaiba was closed off to some traffic and there were many police officers around. I hoped that they would not stop us. But being that we all were skating safely and took precautions to appear safe, they did not bother us. As you can see in the picture below, we took advantage of the road closure to skate on the street with not having to worry about any traffic.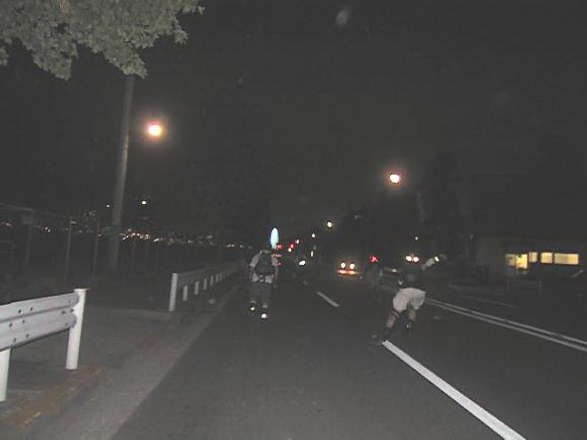 Skating on the open road towards Odaiba in Ariake!!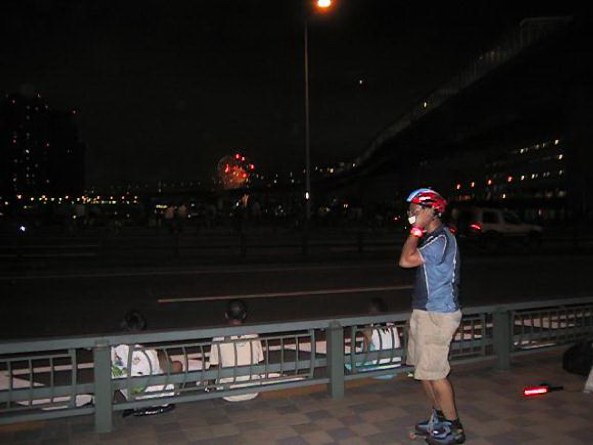 At Nozomi Bridge making a phone call with the fireworks in the background
At around 8 PM we made to the Nozomi Bridge that connects Ariake to Odaiba. At the middle of the bridge everyone stopped and we took a break. We got to see the rest of the fireworks, which were fantastic to look at. I like the Japanese fireworks better than in NY on the Fourth of July . There were so many people on the bridge. We had skated about 11 km from Tokyo to Odaiba. I was happy that we accomplished another night skate in Tokyo. After the fireworks finished, we skated back to Toyosu. And just as we got near the Toyosu subway station, it started to rain. All together we skated about 15 km for this night skate. Afterwards we went to a restaurant where we all had fun and some of us got drunk^_^. I must say that I had a very good time skating with the skaters from Tokyo once again. This night skate felt like a night time version of CR that was more exciting. Some skaters were a little hesitant about skating at night because it was a whole different experience from skating in the daytime. But they found out that it was fun to skate at night too. I am glad that everyone had a good time skating with me and I hope that there will be many more night skates in Tokyo to come. We may not have as many participants as in New York, Amsterdam or Paris, but in due time a Tokyo night skate will be just as popular as in the other cities around the world. That is what I hope for. Thank you to all the skaters and I hope to see you soon^_^
The participants (most of them anyway) of the Hanabi Night Skate on 8-12-00^_^