Yamanote Line Loop - Northern Section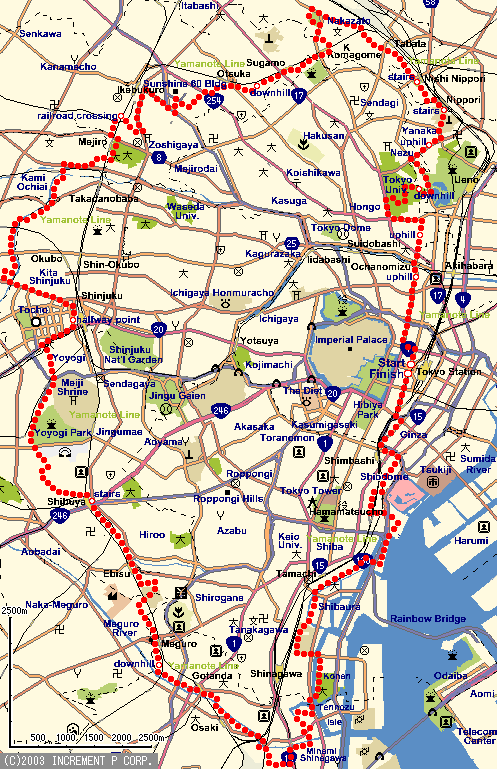 Overview:
If you want to see the real Tokyo you should do this skate. You may think of Tokyo as modern metropolis with tall buildings and bustling with millions of people. You will see a different aspects of this dynamic town after doing this skate. At times you will feel as if you have somehow skated back to the past when you pass by temples or cemeteries.
The route basically follows the Yamanote Line which connects the major sub centers of Tokyo. Some-times you go over or underneath the line. South of Ikebukuro you literally cross the rail tracks. Some parts of the route have a steep incline or steep decline, so if you feel that you can't make it down a particular hill; take your skates off (see map).
The length of the skate is about 50 km. You can skate the whole 50 km if you're up for it or you can split the skate into two sections; Tokyo to Shinjuku via Ikebukuro or Shinjuku to Tokyo via Ebisu. It is advisable to skate this route on the weekends. Start by 8 AM so you can avoid the heavy traffic later in the day. Note: Most of this skating route is taken from "Cycling in Japan", edited by Bryan Harrell.
1 - Tokyo Station to Nippori
Start at the Marunouchi side of Tokyo Station. Make a left at Eitai-dori and then make a right at Hibiya-dori. Once past Okachimachi there is a medium incline towards Nicolai Cathedral and Ochanomizu Station.

After crossing Hijiri-bashi stay straight and skate up Shimizuzaka. Make a left on Kasuga-dori at Yushimatenjin-mae. At Hongo 3-chome make a right. Enter the Akamon entrance to Tokyo Uni-versity and make your way around the University grounds via the Tokyo University Branch Hospital. Make a right and proceed on a steep de-cline. Be careful; the road changes from asphalt to cobble stones. At the bottom make a left and the next right will put you on Shinobazu-dori. At Nezu 2-chome make a right and skate up Zenzojizaka. At Ueno-Sakuragi make a left. About 200 m later the road splits. Make a right; this will take you to Yanaka cemetery. Stay on this street and you will reach the south entrance of Nippori Station (There are stairs leading to the path next to the station). Once you reach the north entrance of the station make a left and at the top of Gotenzaka you will see a 7 Eleven where you can stop to take a little break!!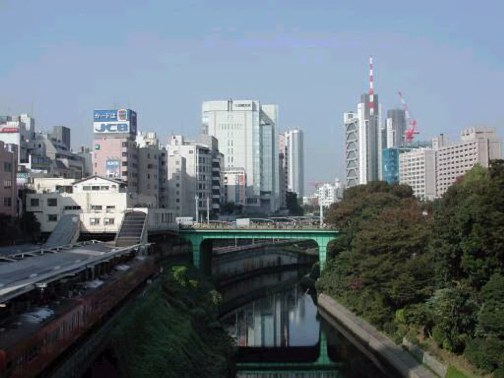 On Hijiri-bashi overlooking Kanda-gawa to the west near Ochanomizu Station.
| | |
| --- | --- |
| At the bottom of Shimizuzaka in Yushima | At Mikaerizaka towards Tokyo University |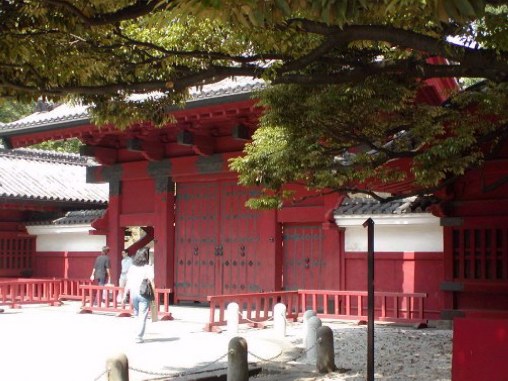 The Akamon (Red Gate) entrance to Tokyo University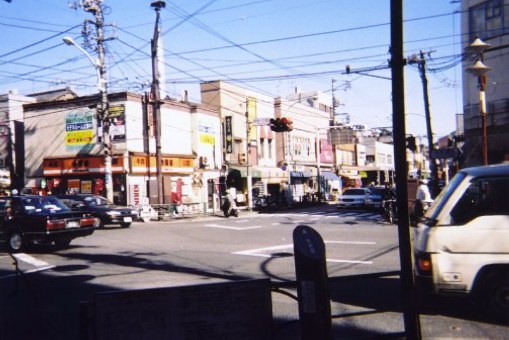 At the Nezu 1-chome intersection (Shinobazu-dori and Kototoi-dori).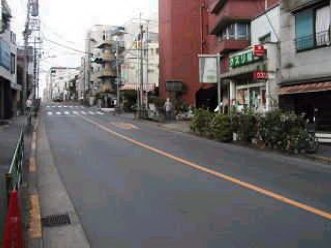 Zenkojizaka between Nezu 2-chome and Yanaka 6-chome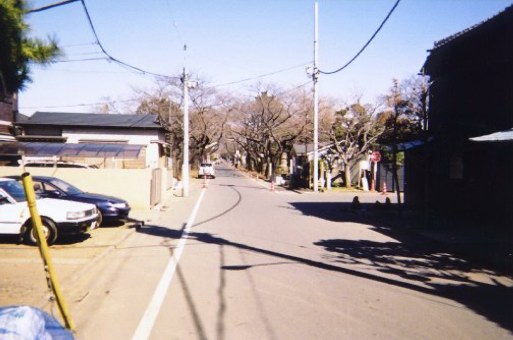 At Yanaka 7-chome towards Yanaka Cemetary and Nippori Station
| | |
| --- | --- |
| At Momojizaka near Nippori Station | On Gotenzaka before 7 Eleven |

2 - Nippori to Higashi-Ikebukuro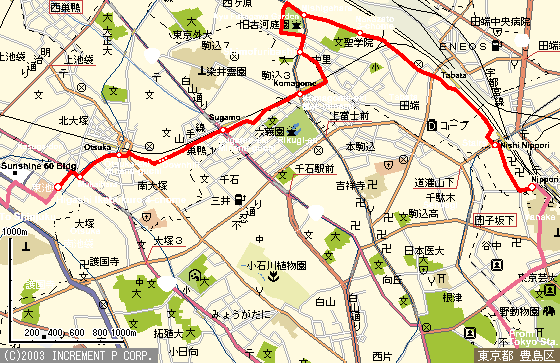 After stopping at Seven Eleven for some needed fluids, skate to the next intersection and make a right. Near Nishi Nippori Station don't follow the road but skate through Nishi Nippori Park (rough surface). You will see stairs at the end of this path that will take you to an overpass. After the obstacles, keep skating past Tabata and you will eventually go across the Yamanote Line. Now you are in Nakazato 3-chome and keep straight until you get to Nishigahara.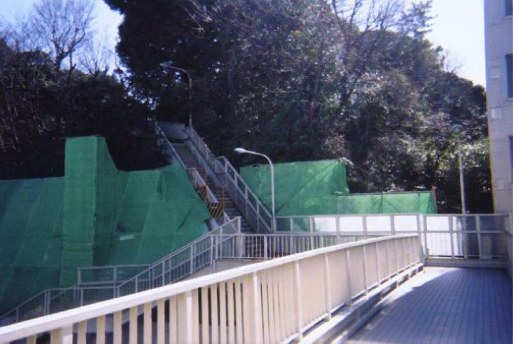 The stairs leading from the park to the overpass near JR Nishi-Nippori Station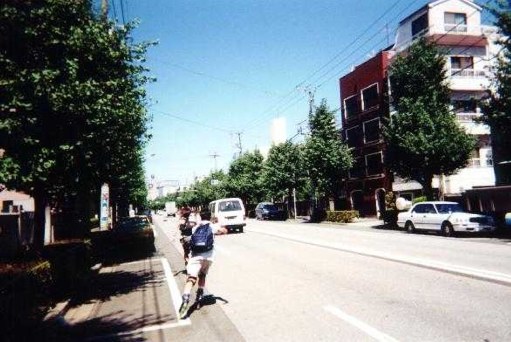 Skating in Nakazato 3-chome heading for Hongo-dori
After getting on Hongo-dori at Nishigahara, you will pass by the Old Furukawa Garden. Make a left and follow the north-west side of the garden. It's a nice path with a slight decline and is fun for some fast skating. At the next corner make a left and at the light you will be once again at Hongo-dori going southbound. At Shimofuri-bashi make a left. This street will split and stay to the right. This will take you to the east entrance of JR Komagome Station.
| | |
| --- | --- |
| At the east entrance to Komagome Station | At the main entrance to Sugamo Station |

Pass through the station and make a right skating along the south side of the station. Cross Hongo-dori again and keep parallel to the Yamanote Line. Make a right at the first available street and you will wind up at the south side of Sugamo Station. Cross Hakusan-dori and skate parallel to the Yamanote Line. At the end of the street make a left, then make a right. This street has another steep decline (Asamizaka).
At the bottom of Asamizaka near Otsuka Station
Make a right at the end of this street and the following street will take you to the square near JR Ostuka. Then go west and skate parallel to the Arakawa Tram Line. This street has a slight incline until you reach Mukaihara and make a right onto Kasuga-dori. Make a left at the next street. Now you are in Higashi Ikebukuro and you can see the Sunshine 60 Building to your right.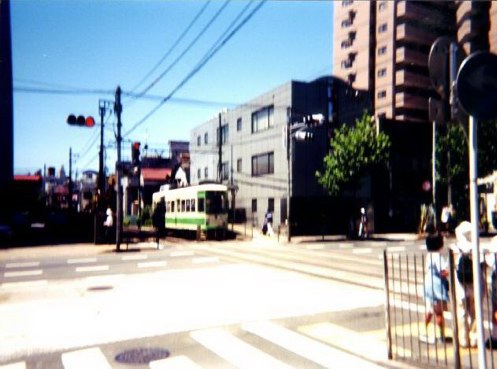 A Toden Arakawa tram at Kasuga-dori close to Higashi Ikebukuro.
3 - Higashi Ikebukuro to Shinjuku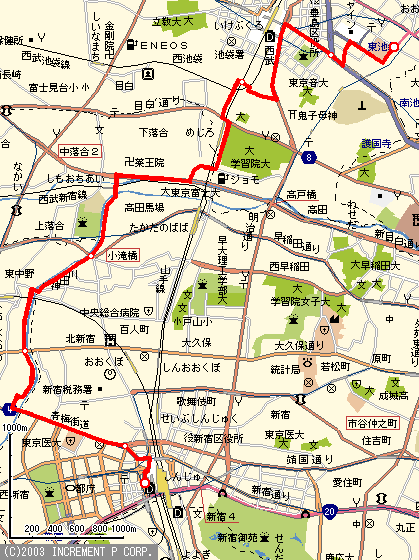 Keep on the same street. The street curves 90 degrees and at the second traffic light make a left. This road will take you to Green Odori. Make a right onto Green-Odori and at the third traffic light make a left. This street will lead into Meiji-dori. About 500 meters into Meiji-dori make a right. This small street will lead you to a railroad crossing for Yamanote Line and Saikyo Line.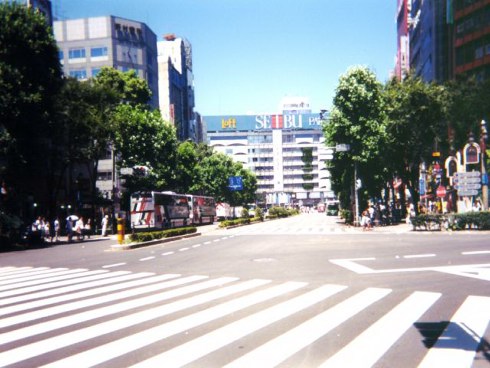 On Green-Odori near Ikebukuro Station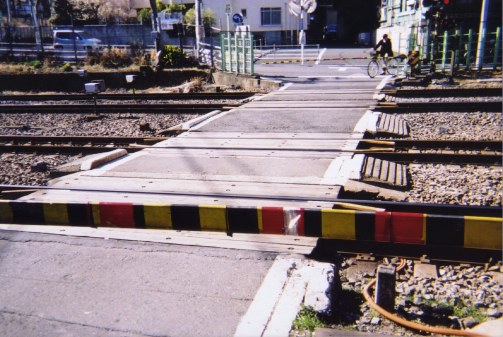 The railroad crossing south of Ikebukuro Station
Now go south along the Yamanote Line until you reach Mejiro-dori and make a left. After crossing the Yamanote line, make a right and now you will pass by Gakushuin University. At the end of this street make a left and skate this street until it leads into Shin Mejiro-dori where you make a left and head towards Shimo-Ochiai Station. Before reaching the station make a left and you will cross a little concrete sided river and the Seibu Shinjuku Line. Then you cross a second river, the Kanda-gawa. Skate along the river, but switch to the right bank before skating under the Chuo Line.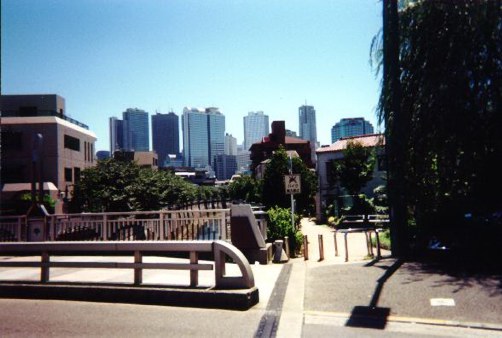 Along the Kanda River with the buildings of Nishi-Shinjuku in the background
After crossing Okubo-dori, keep skating along Kanda-gawa for about 500 meters and then make a right. On the next corner make a left, then make another left onto Ome-kaido. You can skate in traffic, but try to stay on the sidewalk. At the pedestrian bridge near the Yasuda Insurance Building, skate in the direction of Shinjuku Station (You can use the pedestrian bridge if you feel it's too much for you). After passing Odakyu Halc and Odakyu Dept. Store you will reach your halfway point (23 km) at Keio Dept. Store. Take a nice break and enjoy the food court inside. Go to next page to the southern section of this skate.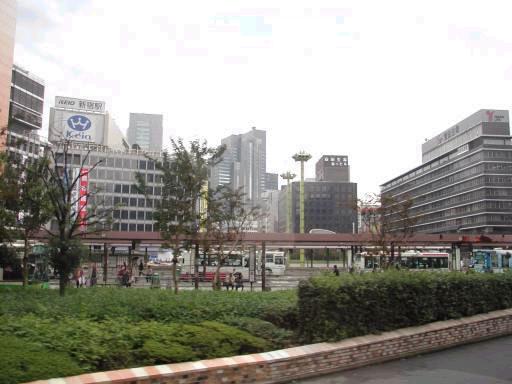 At the westside of Shinjuku Station near Keio Dept. Store