Tokyo Night Skate in 2001

Tokyo Night Skate on January 13, 2001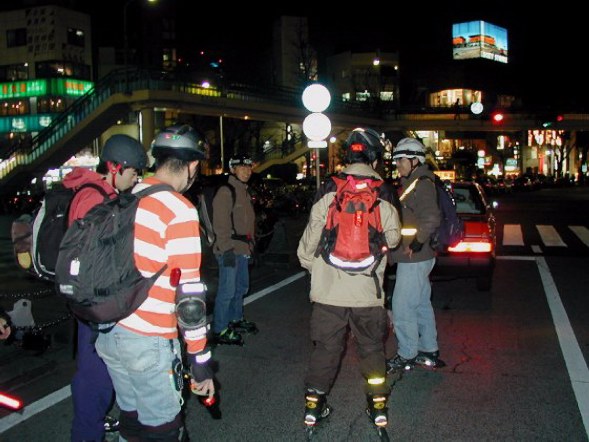 At Jingubashi near JR Harajuku Station
Route: From Harajuku to Shibuya via Omotesando, Nogizaka, Gaien Higashi-dori, Roppongi, Azabu-juban, Shiba Park, Hamamastucho, Shinbashi, Ginza, Marunouchi, Tokyo Station, Sakuradamon, Kasumigaseki, The Diet, Nagatacho, Kojimachi, Yotsuya, Shinjuku, Yoyogi, Sendagaya, and Jingumae (see map below).
Ten skaters participated in this event. We left Harajuku at about 18:00 and arrived at Shibuya at about 21:00. The total distance skated was around 20 kilometers. The weather that night was brisk, but good enough to skate. The traffic as expected was busy as usual. I skated with my speed skates and felt a little weird. We had no problem going through the Nogizaka Tunnel and made our way to Roppongi. At Shimbashi we took a break. At this point I put on a light jacket over my bike shirt as it was getting a little chillier. After passing through Marunouchi, one skater fell near Sakuradamon. It was not serious, but he had to bail out of the skate and met us at the end of the skate in Shibuya. Overall, this skate went good and we got the number of participants skating on the road from 4 to 10. It may not be much, but it is a start.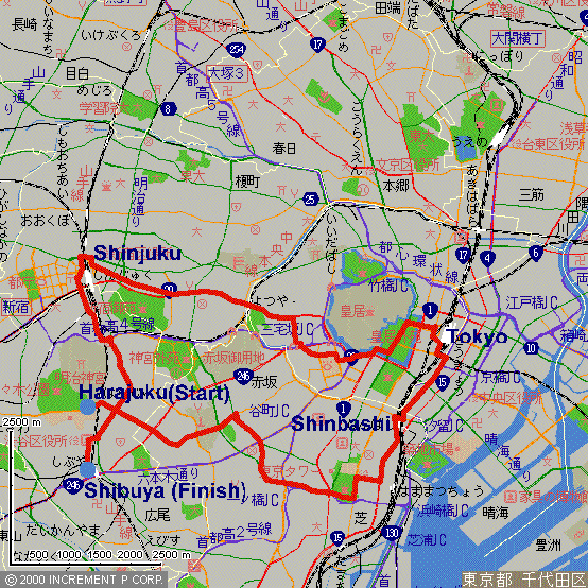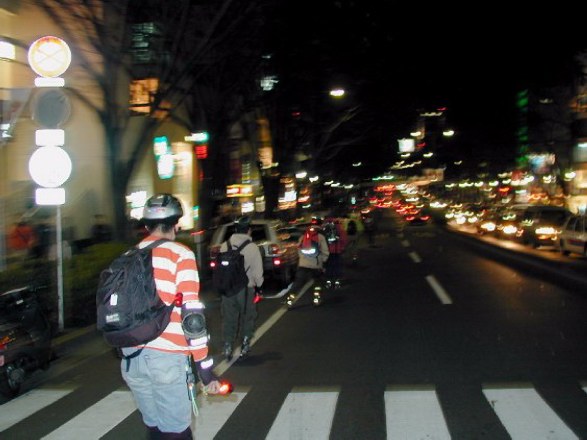 Skating on Omotesando towards Aoyama-dori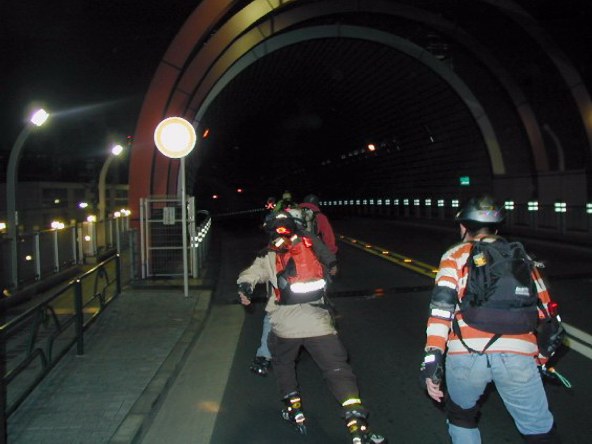 Entering Nogizaka Tunnel
Waiting for the light at Roppongi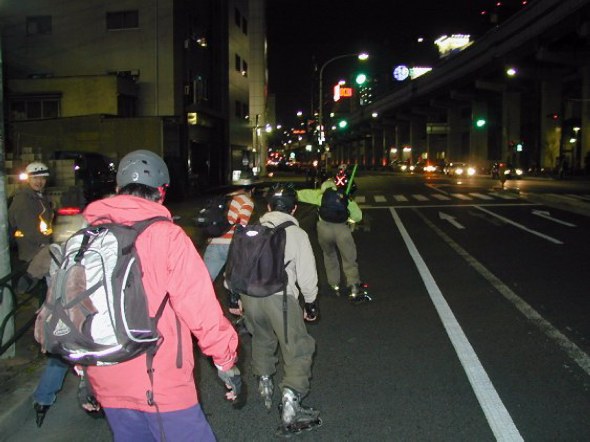 Skating in Higashi-Azabu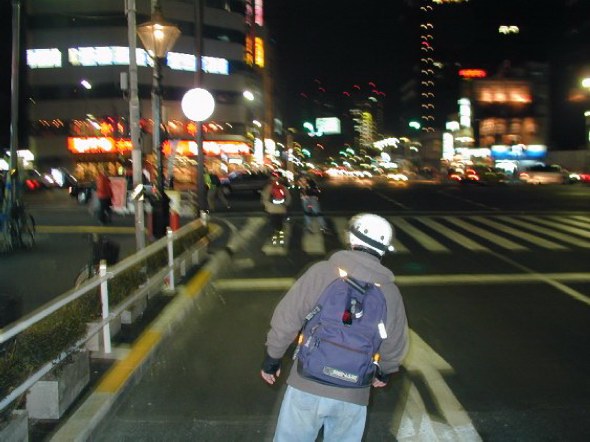 Skating onto Daiichi Keihin (Route 15)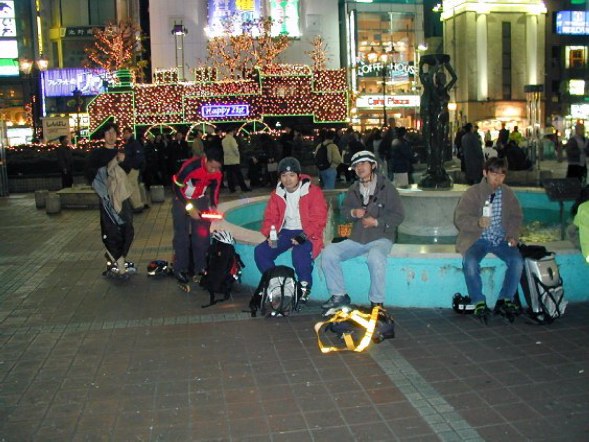 Taking a break in front of JR Shinbashi Station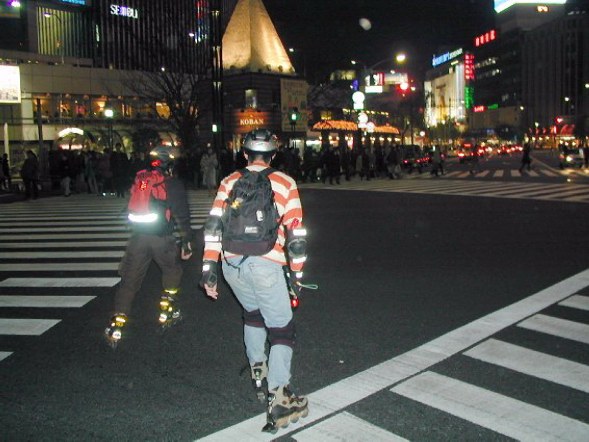 Skating on Sotobori-dori at Harumi-dori (Sukiyabashi)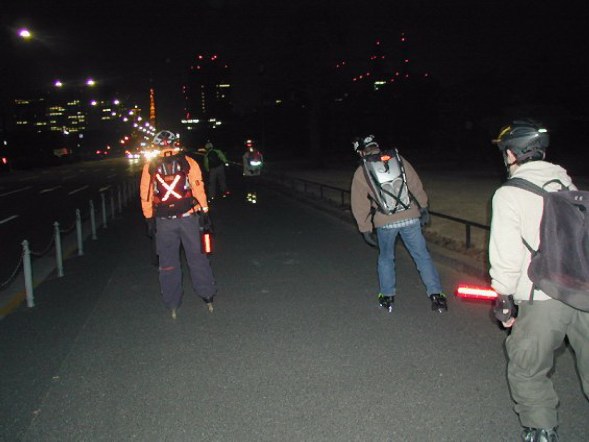 On Uchibori-dori towards Sakuradamon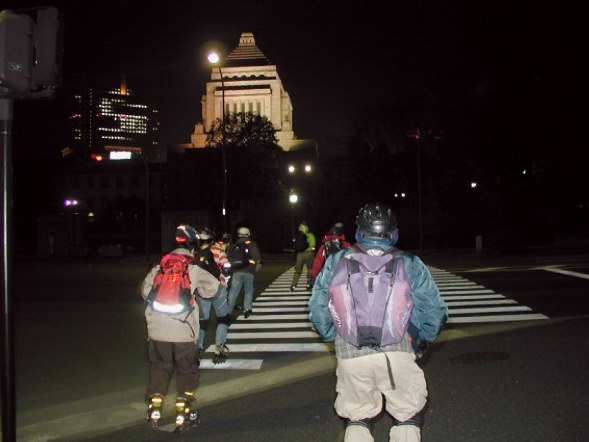 At the Diet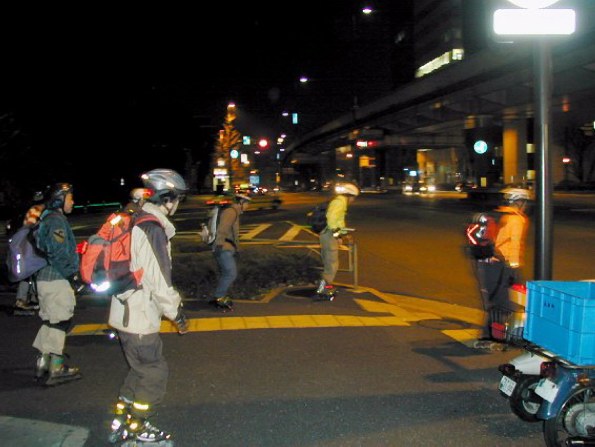 Crossing at Aoyama-dori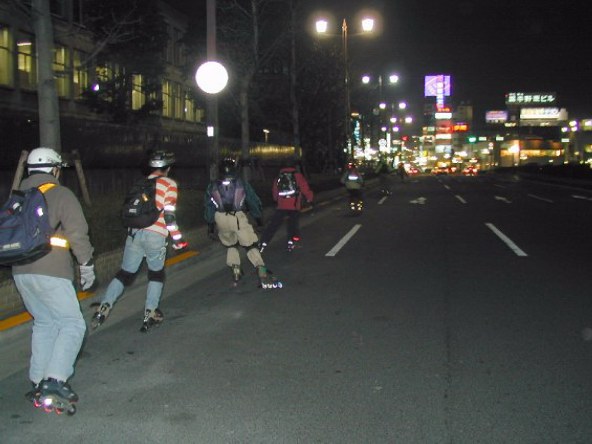 Skating on Shinjuku-dori towards Yotsuya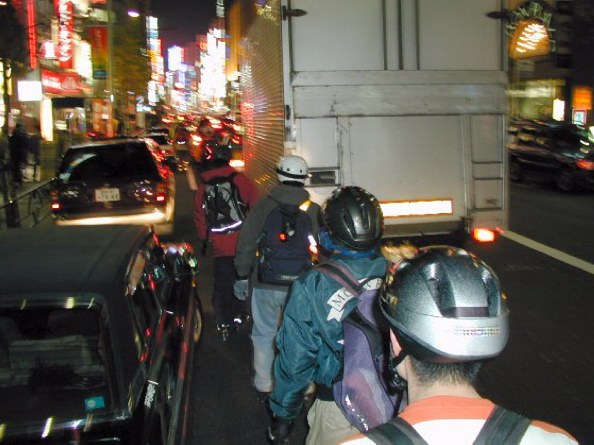 In between parked cars and a truck in Shinjuku 1-chome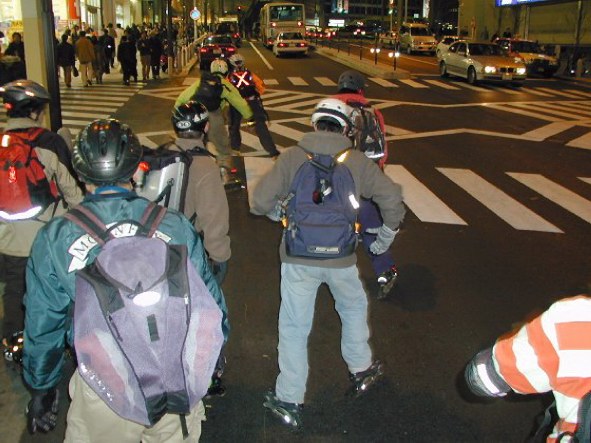 Skating on the west side of JR Shinjuku Station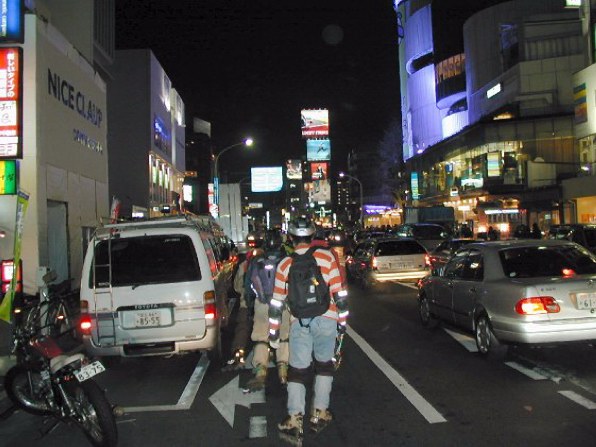 Getting very busy near Omotesando on Meiji-dori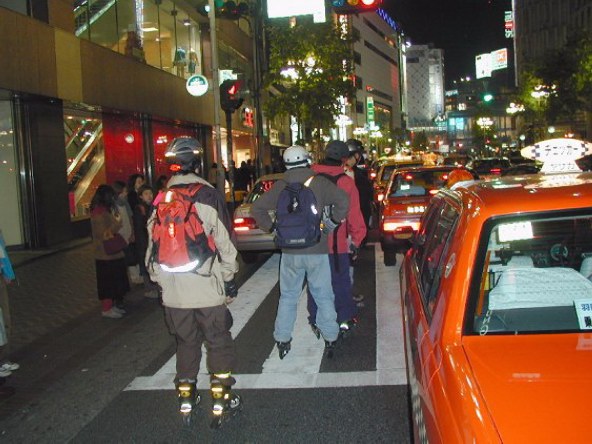 Getting past a row of taxi's in Shibuya
Mission Accomplished!!! Made it to Hachikomae by JR Shibuya Station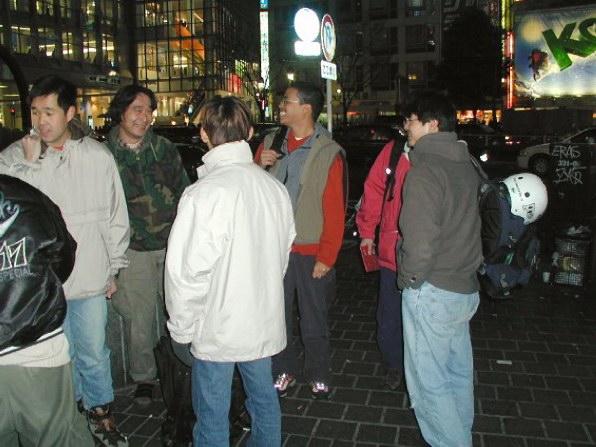 Saying goodnight to the other skaters
Tanabata Night Skate on July 7, 2001
(Harajuku - Omotesando - Nogizaka - Roppongi - Tokyo Tower - Shimbashi - Ginza - Yaesu)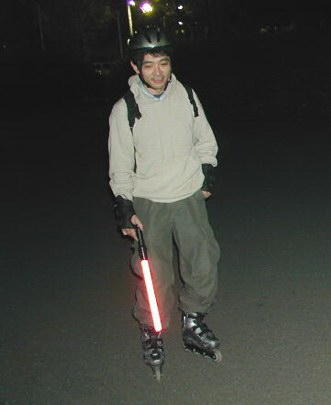 Report by Yasushi Hashimoto
The weather was very comfortable. It was not too hot and not too humid. All the skaters (34) completed the route.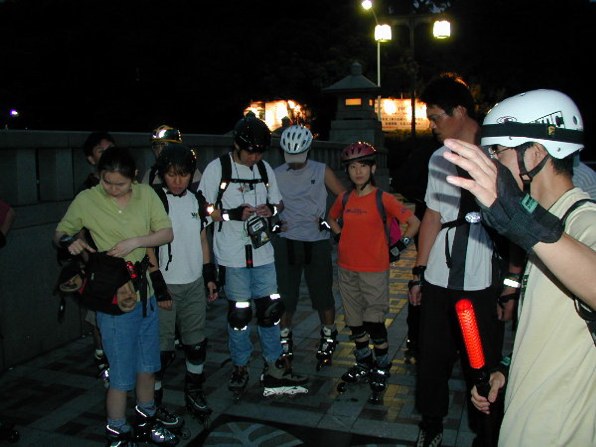 We skated at a pace similar to the Hanabi Night Skate last year (slower than the NSk8 on January). Some skaters were not sure how to go through the Nogizaka Tunnel, so they bypassed the tunnel.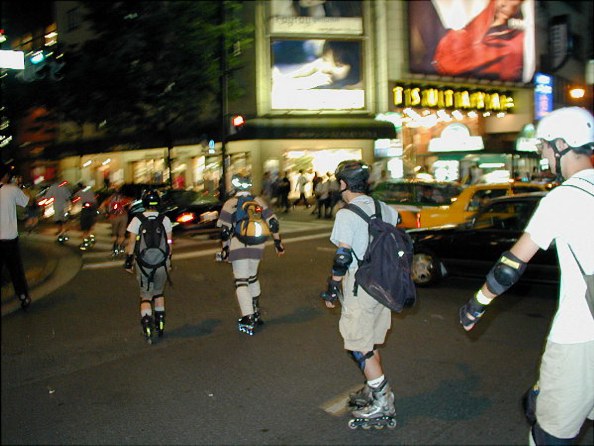 Saito from CR led the group. Matsumoto, Nam-be and Green-Fox followed delayed skaters as usual. Homma cheered up all the skater. They did good job, as usual.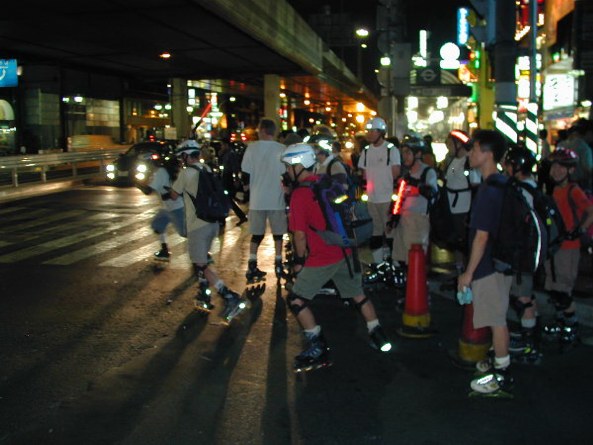 It was exciting, and refreshing. I enjoyed the skate. I think almost half of the participants had not skated on the road at night. They seemed to be excited and enjoyed by the night skate. It must be a good experience for them.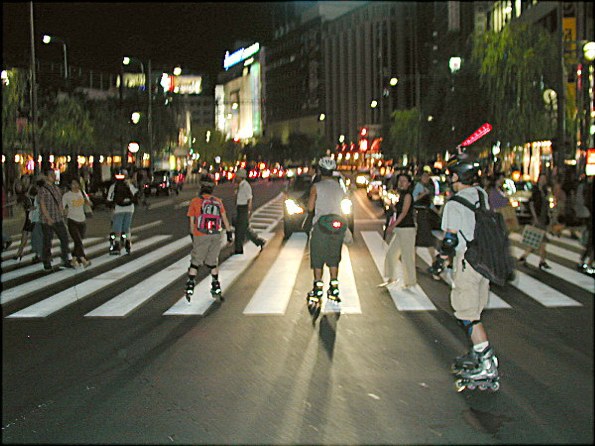 We had a party at Tengu (Izakaya) nearby Tokyo Station after we finished. Some people eagerly talked about CR and NR, some people only drunk and talked nonsense.
2nd Hanabi Night Skate on August 11, 2001
(Marunouchi - Yaesu - Tsukuda - Toyosu - Odaiba (Ariake)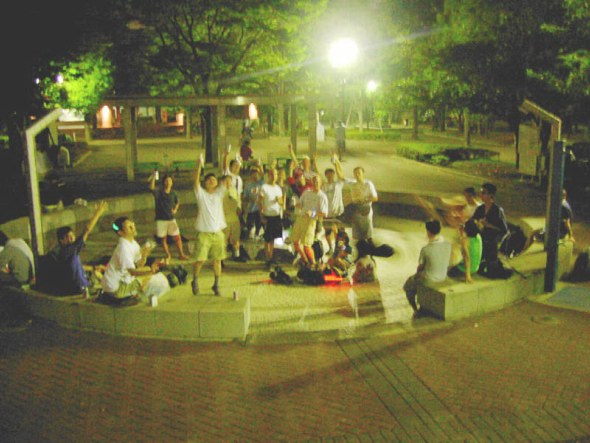 Report by Nobu Kusakabe
On the night of Saturday, August 11th, many people were anxious about the fireworks in Tokyo bay scheduled that evening. When I arrived at Tokyo station (starting rendezvous point for the Hanabi Night Skate), it was already drizzling. Some skaters decided to retire before the start, but more than 40 skaters decided to hit the road anyway.
Saito's strategy of dividing the group into smaller ones with less than 10 skaters apparently worked and we had no trouble with officials during the skate. In addition, the rain had disappeared and the temperature that evening was below the average steamy Tokyo summer night. Above all, the firework was carried out. Yeah!
It was a perfect evening for a night skate. The sparkling wheels were also accepted by bystanders along the route in favor. At Odaiba, our destination which was the best place to see the fireworks, it was a small surprise that Saito announced that Tim from NYC had made T-shirts of his design for the Hanabi Night Skate and they were given to 5 lucky participants. We hope more people could join the night run for the next year, including you. See you next year.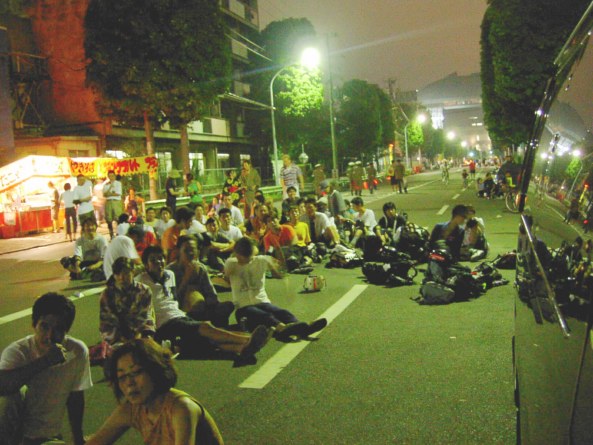 Here is a second report by Yasushi Hashimoto:
It rained off and on that Saturday. Even at 17:30, when we were due to start, a fine rain was still falling around Tokyo Station. Some skaters gave up on the Night Skate because of weather condition.
The course of this years Hanabi Night Skate was complicated. Mr. UNO and Mr. Shigeshige had prepared copies of the route map and had distributed them to skaters. That was a practical and useful idea for the event. Thirty five skaters gathered in front of Tokyo Station. We were divided into five groups, and left one by one.
The road surface was wet for some time after we started and the wheels often slipped as if we were on the ice. Therefore, we could neither skate with long stride nor reduce the speed enough by T-stop. We started at a considerably slow pace. When it was around 18:00, the rain had stopped and the road surface eventually became dry. We gathered speed as usual night skate from the middle.
Seventeen skaters joined in the planned unification site at Toyosu. There were few pedestrians and cars from here, and speed was able to be gathered in comfort. Hurry for the Hanabi!! After all, we did not have a serious obstacle and were able to skate to the goal. We enjoyed fireworks at the goal point, though they could not be seen clearly because of cloudy condition. And the lottery of T-shirts which Tim made was performed. After the fireworks, about half of skaters returned to Toyosu and drank beer in the park near the station.
Tokyo BONSUKE (Bonnou Night Skate) 2001-2002
(Ueno - Ginza - Marunouchi - Yotsuya - Shinjuku)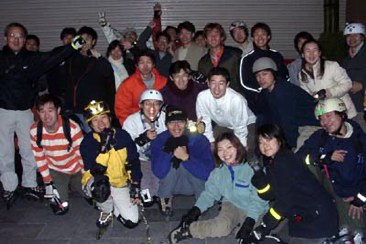 Report by Nobu Kusakabe.
On December 31st 2001, at 10:30 PM, around 30 sk8ers, with shiny equipment on their body started to head for Shinjuku Station from Ueno Park in Tokyo. It was a merry start of Tokyo BONSUKE.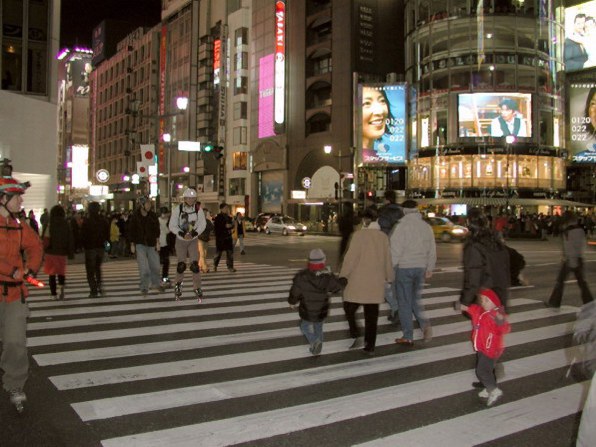 What's the meaning of Bonnou? Worldly desires[passions], a kind of Buddhists concept. In Japan, it is a
custom to pray to brush out 'Bonnou' at the end of year to celebrate the new year. They say, we have 108 kinds of 'Bonnou'. Often at the Buddhist temples, Buddhist priests ring a bell 108 times to brush out our 'Bonnou'.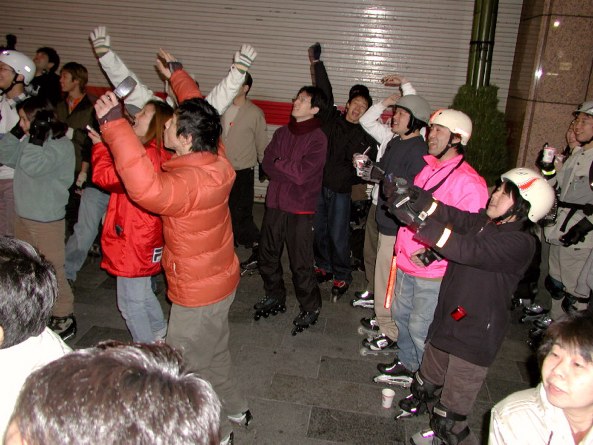 Apart from that, Maji-san, one of the night Sk8 pioneers in Japan, had called for an action of New Year's Eve Sk8 for the night, and named it Bon'nou Sk8. By the way, in spite of the name, the run did not have any taste of religion so anyone was welcomed.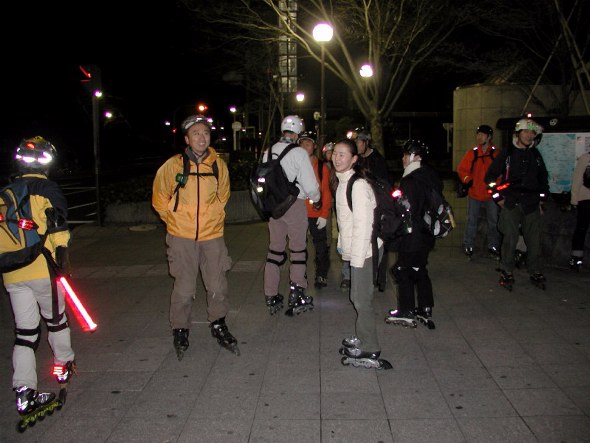 At Tokyo Station, we visited a street with gorgeous illumination gates, known as Tokyo Millenario (year-end event) and female workers cheered us on to a dance performance in front of a Starbucks in Ginza. We skated through the back roads of Ginza until the New Year count down at Wako (gem & watch store, famous for being destroyed by Godzilla in 1954).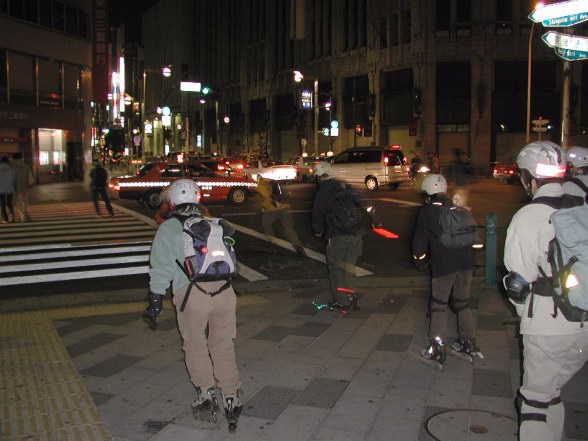 Police officials asked "what we were doing" several times, but no trouble occurred this year.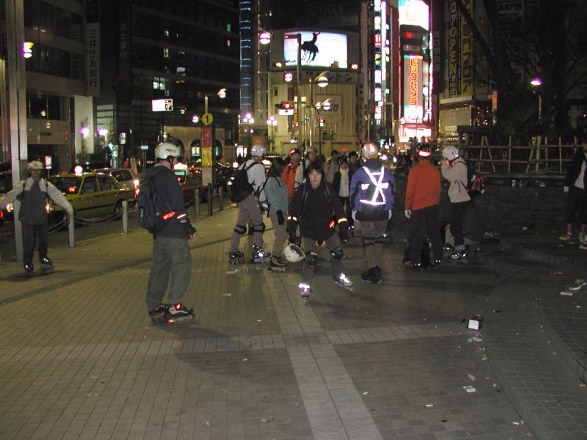 It was almost 2 AM when we arrived at Shinjuku station. Afterwards, we celebrated the New Year at Murasaki bar. It is a most valuable way of spending the new years eve! Pictures courtesy of Masuda-san. Please go to his
photo site
for more pictures from the Bonnou Night Skate.