Tokyo Night Skate in 2002
***Information on the Tokyo Night Skate for August 3, 2002***
Date: August 3, 2002
Time and Place: Meet at 18:15 on the Jingu Bridge south of JR Harajuku Station and leaving at 18:45. Route: From Harajuku to Shibuya via Omotesando, Aoyama Reien, Nogizaka Tunnel, Roppongi, Azabu Juban, Keio Daigaku, Tokyo Tower/Shiba Koen, Atago Tunnel, Toranomon, Shimbashi, Ginza, Marunouchi, Imperial Palace Outer Garden, Sakuradamon, Kojimachi, Yotsuya, Shinjuku, Yoyogi, and Jingumae.
Distance: About 23-24 km.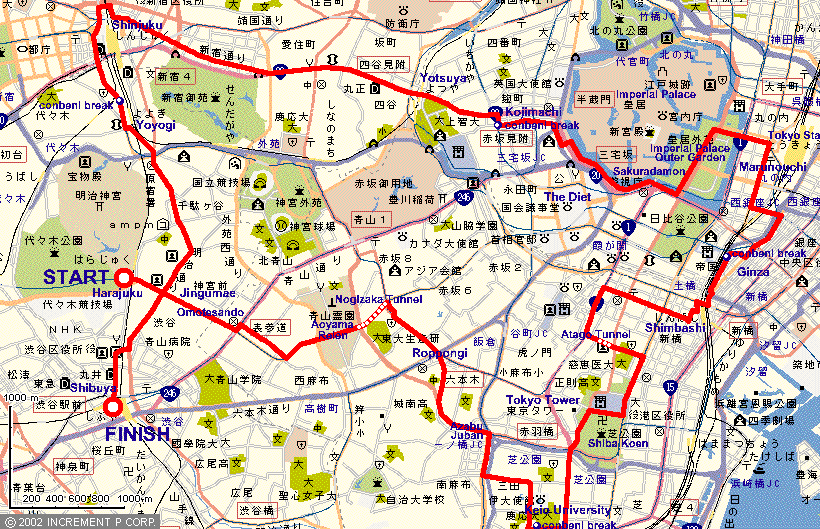 This skate takes place mostly on the road, so you are participating at your own risk. Please wear protective gear, a helmet, and flashing lights and/or reflective material. We will take four breaks during the skate (marked on the map as conbeni breaks) to get water or other drinks at covenience stores.
Tokyo Night Skate (Extreme Level!!) on February 9, 2002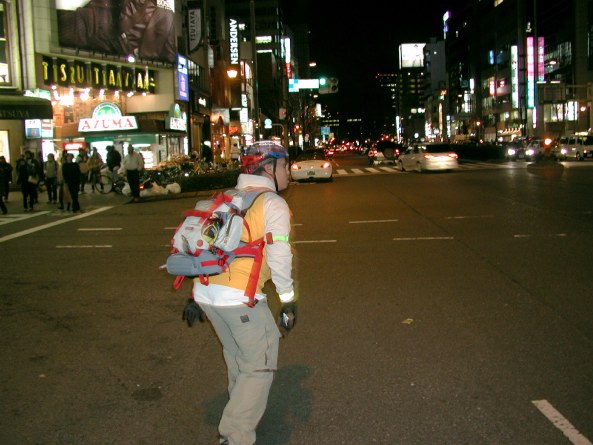 At the intersection of Aoyama dori and Omotesando.
This night skate was primarily for research as I was trying out a new route through such neighborhoods as Hiroo, Ebisu, Shirogane, and Azabu. It was just three skaters on this cold and windy night in February. The skaters were Masuda (Photographer), Su-G and myself. We left at around 18:30 from Harajuku and ran right into heavy traffic on Omotesando from Meiji dori to Aoyama dori. Once on Aoyama dori and Kotto dori it was fine. Then when we reached Roppongi-dori, we had a hard time crossing the intersection. But we managed and entered into Hiroo. The road leading to Ebisu was very narrow and with an s-curve the bottom of the hill before reaching Meiji-dori. It was the beginning of an "extreme" night skate.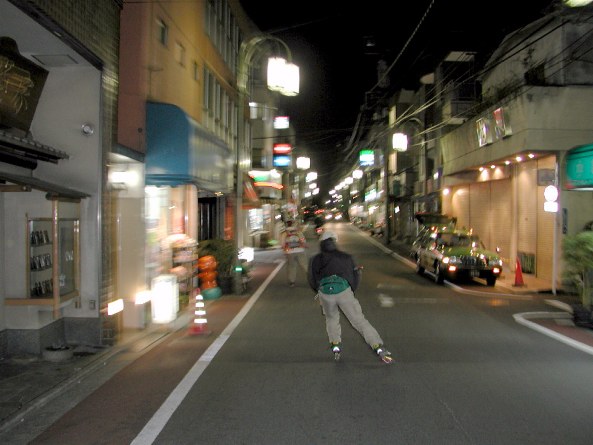 Skating on a narrow street in Hiroo towards Meiji dori.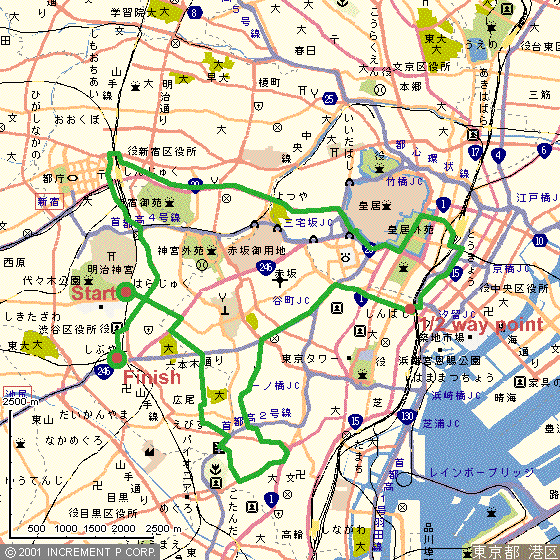 Route for Tokyo Night Skate (Extreme Level) on February 9, 2002
Once in Ebisu, things quieted down for a while and we go a little lost at a certain corner, but made it to Gaien-nishi dori. We made a left at the next major intersection. This road led to Meguro dori. It was a major uphill skate for us and we skated most of it on the sidewalk. Meguro dori was not any better for us because the road was in bad shape and it was very narrow for us to skate. Finally, we made our first brake at Shirogane 1 chome (at a Seven Eleven). We left at 19:10 from there and made our way to Azabu. Once again we had more hills to climb until TV Asahi in Azabu.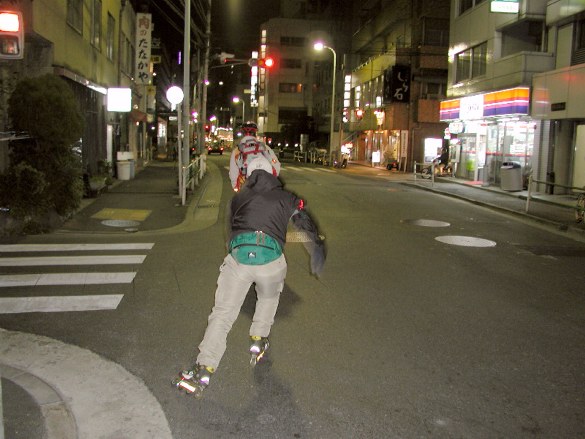 Heading towards Roppongi dori on TV Asahi dori.
Once on Roppongi dori, it was a relief for us especially doing downhill from Roppongi 6 chome to the Ark Hills complex. We got to the SL plaza in front of JR Shinbashi Station, which was the halfway point of the skate. We left at 19:50 from SL plaza in Shinbashi and made our way to Tokyo Station and the Imperial Palace Outer Garden. Su-G was already feeling the effects of skating all those hills, since he was not used to this type of skating. He named it the "Extreme Level" Night Skate. There was one more major hill to do along Uchibori dori from Sakuradamon to Shinjuku dori. It was very windy that evening, and we had particular trouble going up this hill because of the wind. Once on Shinjuku dori, we had no problems. Su-G had skated as much as he could and stopped at Shinjuku and Gyoen dori at about 20:45. He thanked me for the skate and Masuda and I proceeded to skate towards Shibuya.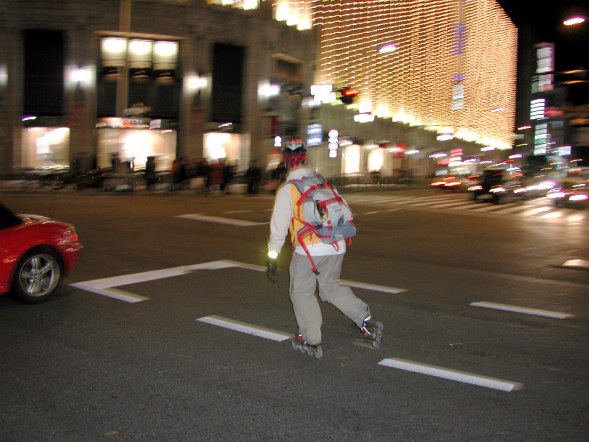 At the intersection of Shinjuku and Meiji dori.
After passing Studio Alta, and the west side of Shinjuku Station, we headed for Yoyogi and skated through a new route to get to Meiji dori. This narrow street goes under the Yamanote line, but crosses the rail tracks which the Narita Express and Saikyo Line use. I find it to be a better way to get the Meiji dori. Well, we made to Shibuya at 21:10 and afterwards Masuda and I went to Mc Donald's for a quick bite. This is the first time we did a 26 km night skate in Tokyo. I would do it again minus some of the hills and narrow streets. Definitely for experienced road skaters only!!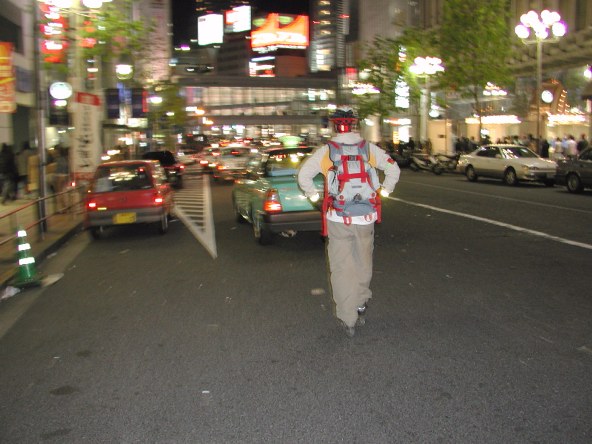 Skating behind taxi's queued in front of Hachiko mae in Shibuya.
Tokyo Night Skate (NY Style) on February 16, 2002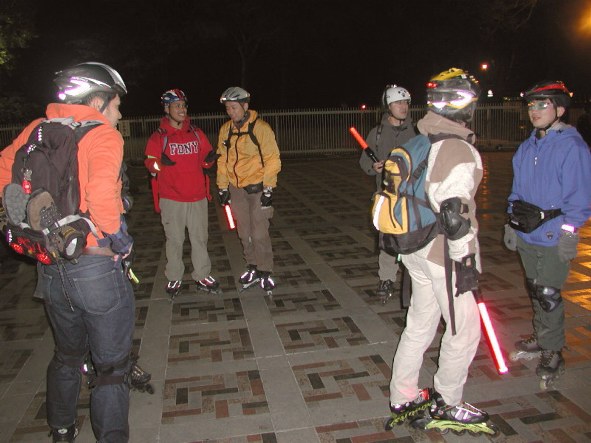 Getting ready to leave at Harajuku.
This skate took place a week after the "26 km roller derby" through Tokyo. Nine skaters (including myself) participated in this night skate. We were about to leave at 18:30 when Hashimoto-san showed up. He was supposed to skate the week before, but he had a bad cold. Luckily he showed up in time for the night skate. The route for this skate was Harajuku - Omotesando - Nogizaka Tunnel - Roppongi - Shinbashi - Ginza - Marunouchi - Tokyo Station - Imperial palace - Sakuradamon - Kokkaigijido - Kojimachi - Yotsuya - Shinjuku - West side of Shinjuku Station - Yoyogi - Harajuku - Meiji dori - Shibuya.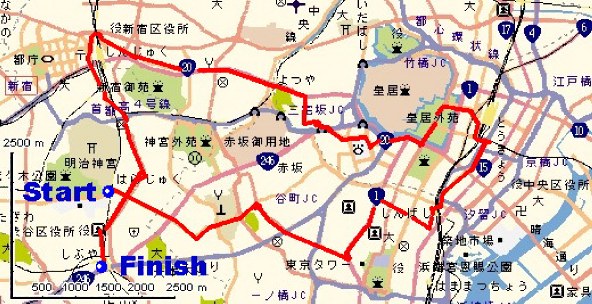 Route for the night skate.
On Omotesando between Harajuku and Meiji dori. Omotesando is just bumper to bumper with cars and trucks, so there is not much opportunity for any fast skating.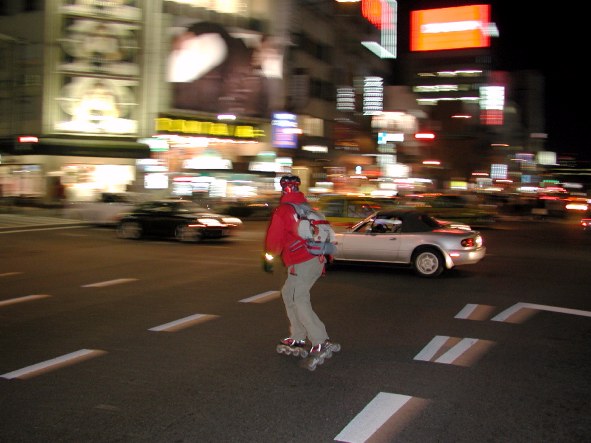 Crossing Route 246 on Omotesando. At this point, some of the skaters decided to use a side street instead of continuing on the main road because of traffic. We lost them for about a minute before getting back together.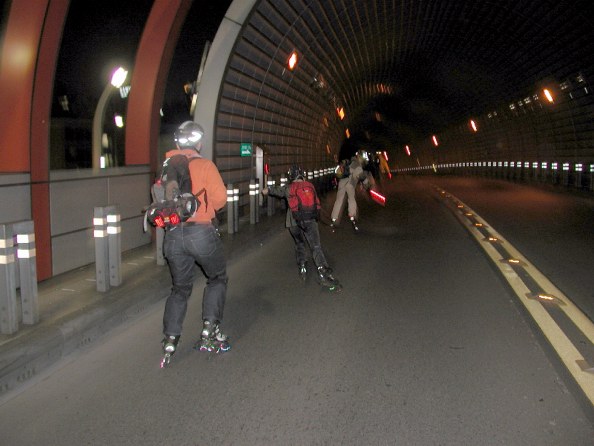 Entering Nogizaka tunnel. Some skaters say skating through this tunnel feels like a roller coaster. It is probably one of my favorite downhill routes in Tokyo.
On Higashi-gaien dori towards Sakurada dori. This street is a good vantage point to see Tokyo Tower.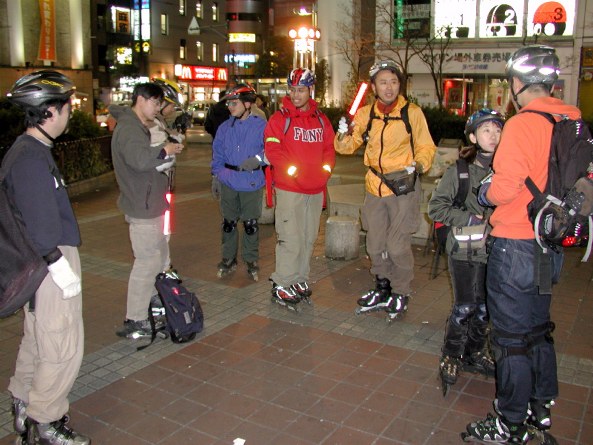 Taking a break at SL Plaza in front of JR Shinbashi Station. We left here at 19:40.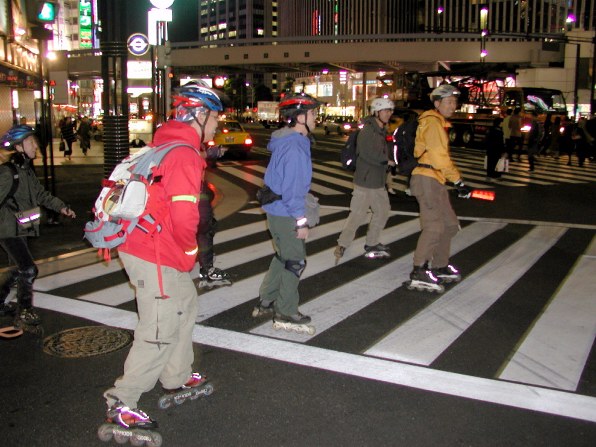 At Sukiyabashi in Yurakucho (intersection of Sotobori and Harumi dori).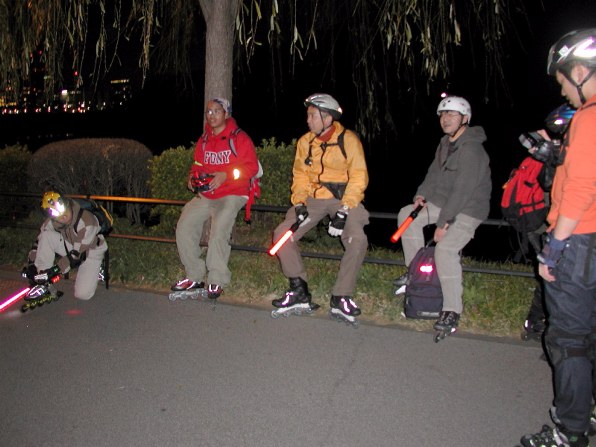 Taking another break near Sakuradamon (across from the Metropolitan Police Department HQ). I am contemplating whether to skate by The Diet because of heightened security for President Bush's visit to Tokyo the next day.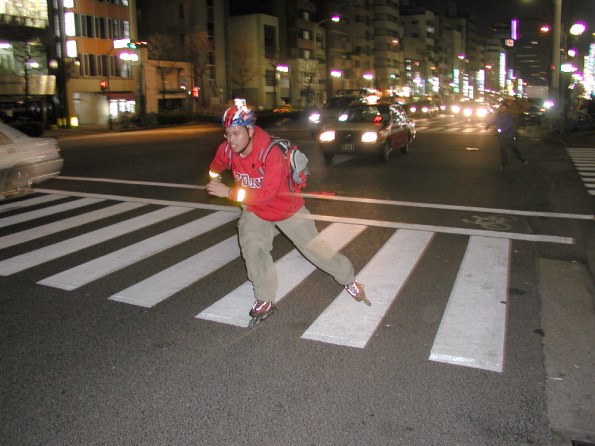 On Shinjuku dori heading towards Studio Alta.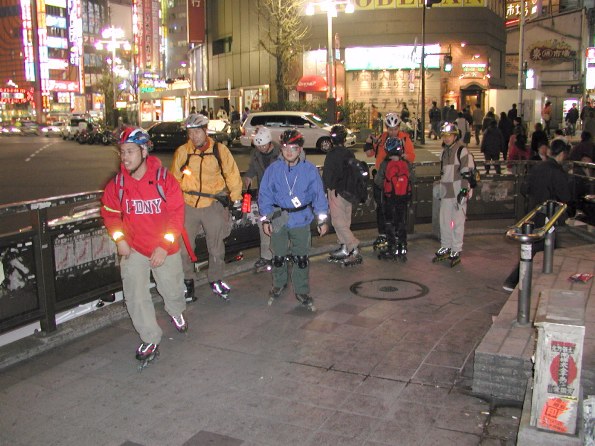 About to pass under the O-guard in Shinjuku at 20:49 (Yasukuni dori and JR Yamanote overpass)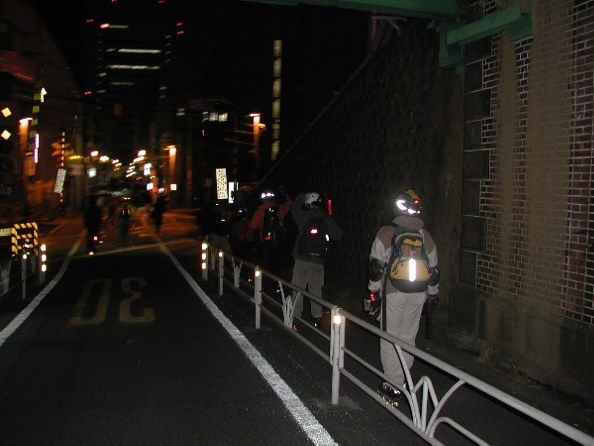 Passing under the Yamanote Line in Yoyogi on our way to Meiji dori.
Skating on Meiji dori heading for Omotesando.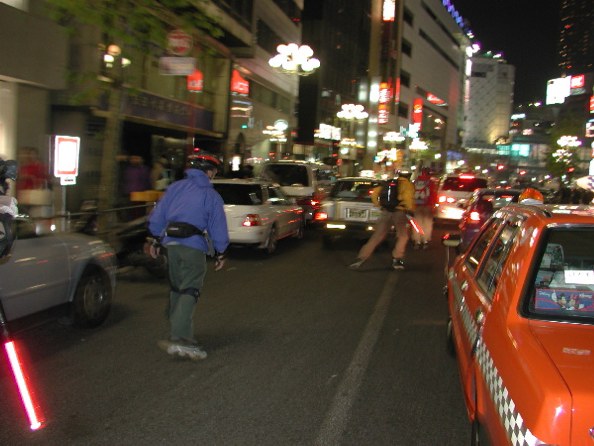 Almost to Hachikomae in Shibuya!!
We started at 18:36 from Harajuku Station and finished at 21:21 at Hachikomae in Shibuya. This skate was a little slower than the previous one and we skated for 20 km, which is the average distance for a night skate in Tokyo. The next bunch of night skates will take place in the summer, with the Hanabi Night Skate in August being the big one.
TO BE CONTINUED...